Friday, November 22, 2019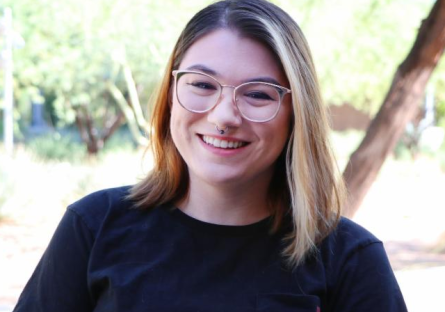 Alexiss Mailloux is proof positive that girls can do anything boys can do. In a typically male-dominated field, the Estrella Mountain Community College (EMCC) grad is crushing it. Alexiss works for one of the leading cybersecurity companies in the world.
Kudelski Security, a global company based in Switzerland, monitors big-time clients (think governmental entities and health care industries). It accomplishes this by employing software programs that scan every single piece of digital traffic that comes and goes. When those programs detect anomalous behavior, they send out alerts.
"Then it's my job to essentially investigate it, determine what's going on, if it's legitimate or maybe just a case of say someone forgetting his or her password," Alexiss said.
She will do what those in the know refer to as a "deep dive" and file a report to be sent to the client. Depending on the severity, she may even have to call the client in the middle of the night.
"It's oddly exciting, it's that rush of adrenaline," she said. "You find something and really delve into it. It's bad for the client, but it's so fascinating to figure out what's going on. You kind of feel like a crime investigator."
The 24-year-old enrolled at EMCC about four years ago with plans of going into medicine. She was working at a medical laboratory at the time and intended on becoming a nurse.
"But I realized I was a little too squeamish for that," she said. "And I'm glad I realized that sooner rather than later."
Around that same time, she was designing websites and having so much fun with it that she was putting off her homework.
"So I thought, 'Why don't I just make this my homework?'" she said, adding she took her first computer course and immediately changed majors. "I fell in love with scripting and programming and thought cybersecurity sounded cool."
For the next two years, she would be the only female or one of only a couple of females in all of her cyber classes.
"To be fair, I don't know if it's not encouraged as much or if it's too intimidating," she said of the gender inequity. "At my last two places of employment, I was the only female on the team and it can be very intimidating to be the only girl in the room, but at the same time, it's very challenging to go through those courses and that alone can intimidate any individual." 
But EMCC's professors don't let intimidation stand between their students and success.
"Tom Polliard, who teaches the Cisco Networking courses, had an enormous impact on me," Alexiss said. "Not only does he have a passion for helping his students, but I really connected with him on an emotional level because I was so intimidated by the field and he was always encouraging and he always saw the best in me."
Polliard thinks media and marketing may have something to do with the gender gap in the IT field.
"Think about video games," he said. "Just the titles alone appear to be geared more toward males than females."
The perception of cyber and IT workers being perpetual introverts may also play a part, he said.
"One woman told me that females don't go into IT because there is not enough "personal interaction" in the field," he said. But nothing could be further from the truth. Communication and teamwork in IT and cyber are hallmarks of the career fields."
Polliard helped Alexiss with her resume and land her first job. He put her in touch with MegaplanIT where she completed an internship and was then immediately offered a full-time job a semester before she'd even graduated.
"The field itself, they're hungry for people to train, they're hungry for brilliant minds," Alexiss said. "It's really astounding how much manpower is needed in that field and it's constantly growing with how much more we're reliant on the internet and anything related to digital traffic."
She worked nights at MegaplanIT and went to school during the day. She didn't get much sleep that last semester, but the benefits were numerous. Aside from the stellar wages she was earning, she was able to witness a direct correlation between the lessons she'd learned in the classroom and how they were employed on the job.
"I can never speak highly enough of the cybersecurity program at Estrella because I got to see the concepts that they taught me and the projects they gave me directly applied to what the field has to offer," she said.
After graduating with two Associate in Applied Science degrees and four certificates of completion in December 2018, Alexiss was offered the job at Kudelski.
"It's a bigger company so it has an even larger client base," she said.
Like her last job, Alexiss is the only female on her team. She's also the youngest. She's always had a passion for helping people. It's the reason she first considered a career in the medical field. It's also what led her to cybersecurity.
"I like knowing that I'm helping protect people and giving them peace of mind," she said.
The pay isn't bad either.
"It's actually very, very nice," she said. "If you want a good field that you can be financially independent in and pay off those student loans, I recommend cybersecurity."