Thursday, February 27, 2020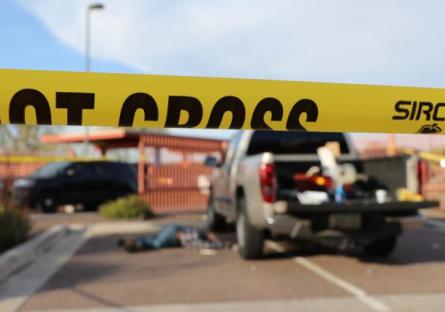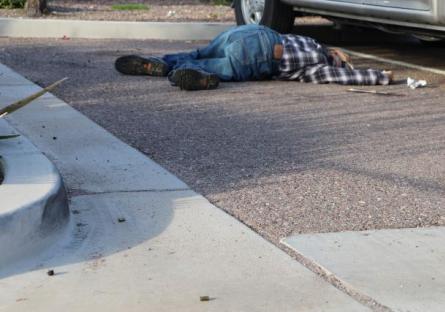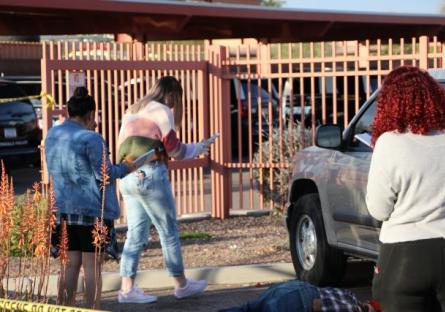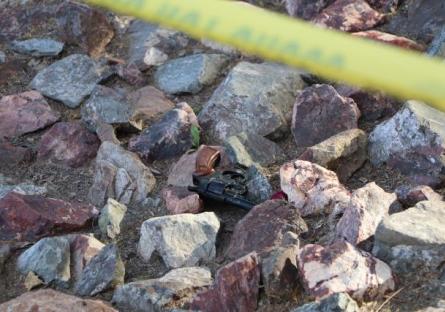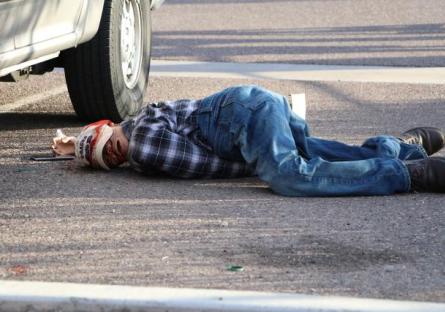 A man was found dead of an apparent gunshot wound to the head Feb. 18 in the parking lot of a West Valley warehouse and Estrella Mountain Community College (EMCC) Administration of Justice Studies students suspect foul play.
OK, the victim wasn't really a man. It was a manikin that Professor Jim Cerven uses in a mock crime scene to give students in his Criminal Investigation class the chance to play detective.
"Part of criminal investigation is crime scenes — your observations and identifying evidence at the crime scene," said Professor Cerven, who is also the Program Director for Administration of Justice Studies. "The students have to engage in critical thinking to come to an initial reasonable conclusion as to what they think happened."
The retired New York City Police Department Detective Sergeant has been constructing mock crime scenes for his students since 2011. He plays the first officer on scene and briefs his students, who play the roles of detectives. He then gives them 20 minutes to conduct a "scene assessment," wherein they go through the crime scene and note their observations, which would ultimately be passed on to forensics.
"They get to experience as real a crime scene as I can make it," he said. 
The students go through the mock crime scene in small groups of four or five and must communicate and share their observations with each other. Using notepads and their cell phones, they document every piece of evidence they can find. If the sun sets before the last group gets its turn, Professor Cerven sets up a light and gives each student a flashlight.
"When it comes to crime scenes, the conditions aren't always perfect," he said.
Although Professor Cerven incorporates the mock crime scene into every one of his Criminal Investigation classes, the timing for this one could not have been better. This mock crime scene coincided with Career and Technical Education (CTE) Month, a public awareness campaign that takes place each February to celebrate the value of CTE and the achievements and accomplishments of CTE programs across the country.
"This is a great exercise for CTE month because it's hands-on learning," Professor Cerven said.
Hands-on learning is something that excites his Administration of Justice Studies students the most.
"I saw the mock crime scene on the syllabus when the class started and got really excited," said Christopher Woods, who plans on earning his associate degree from EMCC in 2021 and then getting his bachelor's from NAU through the NAU Connection, a partnership that allows students to transfer 90 community college credits to NAU. "I think the mock crime scene gives students a good taste of what detective work is like."
For fellow student Kharissa Dowell, the mock crime scene is one more piece of the Administration of Justice Studies program that has made her look forward to her future career in criminal justice.
"I've always known I've wanted a career in criminal justice," she said. "But the opportunities here at EMCC have given me the chance to embrace it even more and make sure this is what I really want to do."
EMCC's Administration of Justice Studies professors are all current or retired criminal justice system practitioners who have years of experience working within the criminal justice field, a fact students repeatedly point to when praising the program.
"The professors here at EMCC are great," said Jeylinne Gabriel, a first-generation college student who participated in the mock crime scene along with Christopher and Kharissa. "They all share their experiences of being out in the field, which really helps us to visualize what a career in criminal justice looks like."
Professor Cerven worked in narcotics for 16 years prior to coming to EMCC in 2007. He handled the tactical end of things, running the operation and doling out assignments. At the time, he had no idea how much that job was preparing him for his current position.
"I still didn't realize it until a couple of years ago that doing all those tac plans gave me the preparation for being able to get up and not only talk to people but to also make sure what I was saying was understood," he said. "Because if you do that in the police department and they don't understand, somebody can get hurt."
Professor Cerven said his students are doing very well in the classroom, finishing their four-year degrees, and getting employed.
"The whole idea with our program is to expose the students to as much as we can to a career in criminal justice," he said. "And to help them prepare to transfer to a university."
---