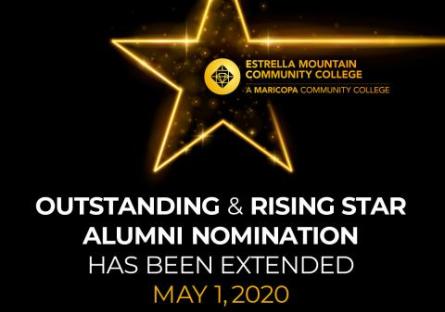 The deadline for Estrella Mountain Community College's (EMCC) 2020 Outstanding Alumni and Rising Star Alumni awards has been extended to May 1.
---
The Outstanding Alumni Award, which is in its second year, recognizes an alumnus who attended EMCC more than five years ago while the inaugural Rising Star Alumni Award goes to an alumnus who attended less than five years ago.
Awards go to graduates who have demonstrated EMCC's Core Values — Integrity, Diversity, Collaboration, and Sustainability — and are accomplished in one or more of the following areas: Professional Achievement and Career Distinction, Service to Society, and Contributions to EMCC.
Last year, EMCC Math Professor Rebecca Baranowski won the Outstanding Alumni Award. Baranowski was an EMCC student from 1993 to 1996 and was actively engaged with MECHA during that time. She received a Bachelor's of Science in Math Education from Northern Arizona University in 1998 and a Master's of Arts in Mathematics from University of Arizona in 2002. She is currently working on her EdD in Community College Leadership through Ferris State University. She was nominated for the award because she inspires students to learn, enjoy math, and become lifelong learners, just to name a few.
To nominate someone for the 2020 Outstanding Alumni Award, please complete the Outstanding Alumni form. To nominate an individual for the 2020 Rising Star Alumni Award, please complete the Rising Star form.