Tuesday, January 14, 2020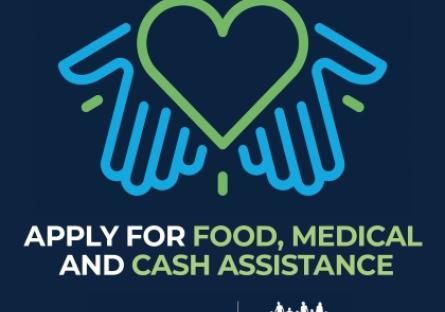 We all know how hard it can be to concentrate on even the most menial tasks when we're hungry. When we're worrying about money. When we're sick. Now imagine you're a college student trying to learn new material with any one of those stressors going on in your life. The result is oftentimes failure.
"When you look at these three areas, those are three primary areas that our students need help with, said Herschel Jackson, Student Services Manager. "When you look at the overall success of the student, the Estrella Mountain student, you have to factor in internal/external factors."
Maricopa Community Colleges recognizes the role these external factors play in a student's success and is here to help. The District has partnered with the Department of Economic Security (DES) to bring representatives to each college campus in January to help students with nutrition assistance, cash assistance, and medical assistance or Medicaid. Representatives will be in the Student Union at Estrella Mountain Community College (EMCC) from 9 a.m. to 5 p.m. Jan. 21-24.
Jackson knows firsthand what it's like for students to try to go to class on an empty stomach. He was himself homeless for a semester in college and wound up flunking out because of it.
"You can't even take notes because your stomach is growling and your body starts to shut down," he said. "So I understand how difficult it is to be able to focus on going to class or studying when you're trying to figure out where you're going to get your next meal."
The ability to pay the bills also plays a large part in whether or not students will be successful in college.
"Far too often, being a college student means that unfortunately, you're going to essentially be broke," Jackson said. "The majority of our students in some way or form will need cash assistance throughout their college experience."
He explained that if a student has to choose between going to school and paying the bills, the student will inevitably choose the latter. Oftentimes, the student plans on taking one semester off from school to work and save money but never returns.
"I've had students come in with the cash issue, and there is a high likelihood that we don't retain those students because they will leave to work more hours," Jackson said.
Access to medical care is just as vital to students' success.
"One of the biggest questions we get from students is they want information on medical insurance for students, but we don't offer that," Jackson said. "If they're dealing with physical issues, mental issues, and they can't get remedies, it's going to play a role in their success, or lack of success, on our campus."
Jackson said EMCC's retention rates have increased over the past five or six years because those external factors have been identified and programs and initiatives have been created to better support students. EMCC's Food Pantry is a prime example. Jackson created the food pantry about five years ago with a few hundred dollars out of his own pocket.
"We recognized that there's an obvious need," he said. "When you look at the numbers, they let you know that there is a huge need for our students. We have well over 1,000 visits per semester from students and we're one of the smaller colleges in the District."
But there's always room for improvement and Jackson is hopeful that the Support for Success event will further increase EMCC's retention rates.
"I think this is an outstanding initiative," he said. "It's one of those areas that can easily be overlooked when analyzing the retention and success of college students. I think more of an emphasis is being placed on those areas of need and this is definitely something that will be a huge benefit for our students."