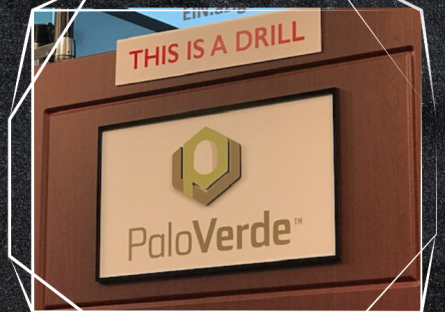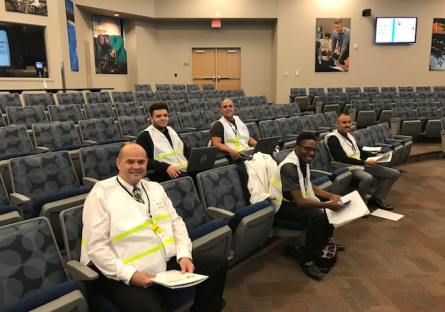 Estrella Mountain Community College (EMCC) students recently got some real-world experience. On Feb. 4, five EMCC Communications students observed three emergency training drills and conducted mock interviews as members of the media at the Palo Verde Energy Education Center in Buckeye.
The Education Center serves as a base for emergency operations in the event of a crisis at the Palo Verde Generating Station in Tonopah. The Center includes an emergency operations room with a 222-seat auditorium, four additional training spaces, a food preparation and serving area, and offices. During non-emergency times, the building serves as a technical training and education facility. 
The Feb. 4 exercise was a collaborative effort between EMCC's Division of Behavioral Sciences and Cultural Studies, STEM, and the Palo Verde Generating Station, the nation's largest power producer of any kind.
Communication Faculty Dr. Cheryl Hebert, who worked with STEM Coordinator Liahla Roberts and Palo Verde to make the event possible, said emergency response communication teams in STEM-related fields have to be adept at not only technical knowledge, but also proficient with the communication responsibilities to protect the disaster scene, the people of the community, and communicate to the media in a crisis situation.
"This cohesion is mandatory, so speculation does not arise and an imminent crisis can be properly managed," Dr. Hebert said. "This takes intense communication training by all involved."
The mock drills gave the students a first-hand look into the career paths as spokesperson, public information officer, and/or working as part of an emergency response team in a crisis situation.
"This experience opened my mind to how far communications go," student Gary Briones said. "Learning how much thought and detail goes into this type of communication process is significant."
Fellow student Joshua Cruz said he was impressed by how organized and prepared the Palo Verde officials were.
"It probably took years for them to get their communication skills down in that specific field," he said.
The exercise was a win-win as students also provided feedback to Palo Verde officials.
"We've heard nothing but great things about the student's feedback to the presenters and can't thank you enough for helping us improve our performance," officials said.