Wednesday, January 8, 2020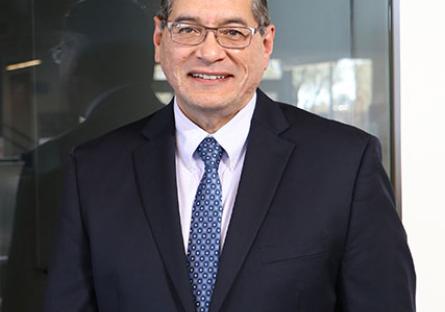 FOR IMMEDIATE RELEASE
January 8, 2020
AVONDALE, ARIZONA, Jan. 8 – Following a comprehensive nationwide search, Dr. Manuel Gomez has been named the college's new Vice President of Academic Affairs (VPAA). Dr. Gomez begins his new position on January 20. He replaces Dr. Rey Rivera, who filled the role before becoming Estrella Mountain's president in July of 2019. Dr. Gomez, a first-generation college graduate, has nearly 25 years of higher education experience with over eight full-time years as an adjunct.
"Although I made the final decision, our entire campus was involved with hiring Dr. Gomez," states Dr. Rey Rivera, Estrella Mountain President. "Starting with a diverse hiring committee and ending with public forums and surveys in which the entire community was invited to participate. I am very excited about the vast array of skills and experiences Dr. Gomez brings to the table as well as how his disposition and approach will complement the senior leadership team."
Before becoming EMCC's new VPAA, Dr. Gomez served as the Associate Provost and Registrar at National American University (NAU). He collaborated with academic officers and staff to support online and ground students and faculty at all university locations. His oversight included faculty evaluation, professional development, credentialing, promotion, and pay structure. His office assured the quality of instruction across the university system.
In addition to his time at NAU, Dr. Gomez served as a dean at Morton College and Illinois Valley Community College, as full-time faculty at Saint John Fisher College, and as an adjunct at the University of Arizona, and Pima Community College. As a college professor, Dr. Gomez has taught Spanish, Latin American History and Culture, and Leadership. He served as Director of Education and Training and the Academy for Assessment of Student Learning at the Higher Learning Commission. In that role, his work included the implementation of curricula on general education and data analysis for faculty and staff at 1000+ colleges and universities.
"I have had the pleasure of working directly with Dr. Manuel Gomez at both the Higher Learning Commission and at National American University," states Lynn Priddy, Ph.D., Executive Advisor, and Provost Emeritus at National American University. "His work in both cases exemplifies a professional truly dedicated to faculty and student engagement, commitment to the educational enterprise, and focus on teaching excellence, academic achievement, and student persistence and completion."
Dr. Gomez served as Assistant Recreational Director for the Black Hills Rapids, coordinating recreational programs for youths 13-19 years of age. He was appointed to the Illinois Community College Board Hispanic Advisory Council and served on the Board of Directors for the Illinois Valley Symphony Orchestra and the Black Hills Symphony Orchestra. In addition, Dr. Gomez served as a board member and president of the Illinois Valley Youth Choir and the Illinois Valley Hispanic Partnership Council. He is a dedicated United Way volunteer serving in varying capacities for many years.
Dr. Gomez earned his Ph.D. Philosophy, with an emphasis in Spanish literature and culture from the University of Arizona with post-doctoral work in community college leadership at the University of Texas, Austin. Dr. Gomez is multilingual in English, Spanish, and Portuguese. He and his wife, Graciela, have three children, Estrella (18), Nani (17), and Cielo (13).
# # #
Estrella Mountain Community College is one of the ten colleges in the Maricopa County Community College District, one of the largest community college districts in the nation. EMCC offers academic courses leading to associate degrees, university transfer, certificates, and short-term job training to more than 14,000 students annually. The flagship campus is located on Thomas and Dysart roads in Avondale. Classes are also offered online and at two Buckeye locations: EMCC's Buckeye Educational Center, located in downtown Buckeye, Arizona, and at the EMCC @ West-MEC Southwest Campus at 500 N. Verrado Way.