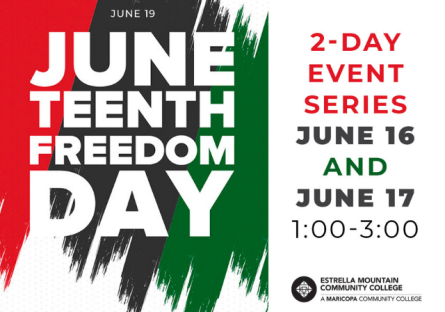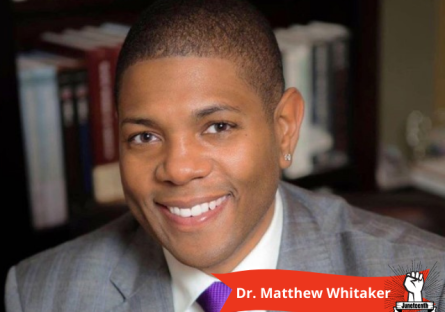 Juneteenth is just around the corner and Estrella Mountain Community College (EMCC) has an exciting two-day series of events planned to commemorate this very special day in U.S. history. "What is Juneteenth?" is set for 1 to 3 p.m. June 16 and "The Importance of Juneteenth in 2021" will take place from 1 to 3 p.m. June 17. Both events will be held virtually and are free and open to the public.
So what is Juneteenth?
Juneteenth, also known as Freedom Day, Jubilee Day, or Liberation Day, is celebrated in 47 states and the District of Columbia every year on June 19. The holiday celebrates the end of slavery in the United States — June 19, 1865. History buffs will note that that date came two and a half years after President Abraham Lincoln issued the Emancipation Proclamation.
For almost 30 months after Lincoln declared that "all persons held as slaves within any State or designated part of a State, the people whereof shall then be in rebellion against the United States, shall be then, thenceforward, and forever free," hundreds of thousands of Black people remained enslaved.
But why?
Distance played a major factor. News traveled slowly. Meanwhile, the population of human beings held in the bondage of slavery grew in Texas. After the capture of New Orleans in 1862, more than 150,000 enslaved Black people were moved to Texas. It was seen as a safe haven for slaveowners because it hadn't seen much fighting and the Union Army presence was negligible.
The practice of slavery continued unencumbered in the Lone Star State until June 19, 1865, when Union soldiers led by Maj. Gen Gordon Granger arrived in Galveston with news that the Civil War had ended and that all enslaved Black people were free. Even then, however, many remained enslaved as their former owners withheld the news until after the harvest.
Still, June 19 was a date to rally around and by 1866, Black people who were freed from slavery began celebrating Juneteenth with prayer, readings of the Emancipation Proclamation, and barbecues. Texas was the first state to make Juneteenth an official holiday, recognizing it in 1980. Arizona became the 45th state to do so in 2016.
EMCC's two-day series will include a proclamation from the city of Avondale, a prayer from a local pastor, a reading of the Emancipation Proclamation, performances by Candice Chavez, former EMCC student and professional singer, and a discussion on what Juneteenth means in 2021. The keynote speaker is Dr. Matthew Whitaker, an award-winning educator, author, diversity, equity, and inclusion specialist, motivational speaker, and founder of the Arizona State University Center for the Study of Race and Democracy.
---