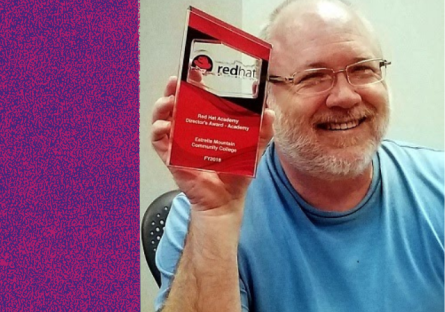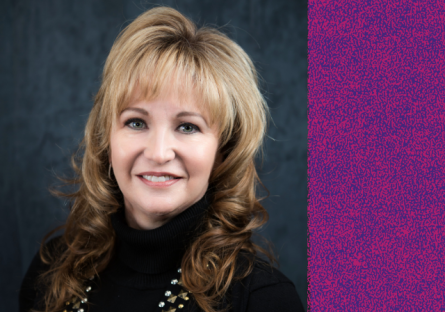 This one's for the students. Show of hands — how many of you have ever looked up to one of your professors? Maybe a professor who just really knew her stuff? Or a professor who helped you obtain an internship? Perhaps a professor who kept pushing you to keep going when you were thinking about throwing in the towel? You might be surprised to know that some of your professors started out right here in the same seat you're in at Estrella Mountain Community College (EMCC).
Take Tracy Baker for example. The Computer Information Systems residential faculty member teaches all of the Red Hat Academy's Linux classes as well as some Cisco classes. He's been teaching at EMCC since 2016, four years after returning to college when he lost his job during the economic downturn.
"I held no degrees and had no professional certifications," Baker said. "As a result, I couldn't even get an interview for a job."
So he turned to EMCC, which was not only close to his home but also offered courses in Cisco networking.
"That interested me, so, I signed up," he said.
It was only during his second semester at EMCC that Baker became a certified tutor for EMCC's Networking Technologies Institute (NTI) and began teaching Cisco classes at South Mountain Community College as an adjunct. He said EMCC helped prepare him by exposing him to professors who knew what they were talking about and by offering practical, hands-on courses.
"I cannot overstate the importance of the hands-on experience model that we use at EMCC," he said. "Since I've been a professor, I have literally had companies tell me that they'd rather hire a two-year EMCC graduate over a four-year graduate from a university because our students get their hands dirty and do the work while most four-year programs simply teach theory."
Baker has always been passionate about information technology and he's a self-described "explainer," two qualities that made him a natural fit for a professor.
"I like to talk about what I'm doing and how things work," he said. "Becoming a tutor and then an adjunct showed me that I also have a passion for teaching."
Cheryl Aisporna, who teaches Clinical Nursing, also started out right here at EMCC. As with Baker, proximity played a part in her choice to attend the West Valley college.
"It was close to where I lived in Surprise when my family and I moved here in 2005," she said.
She enrolled in the LPN program through the Southwest Skill Center and graduated in 2008. A year later, she graduated with her ADN in Nursing Science from EMCC. After that, she worked at Banner Del E. Webb Hospital and obtained a Bachelor's of Nursing Science and a Master's in Nursing Leadership, both from Grand Canyon University in Phoenix. She returned to EMCC as a professor in 2019.
"I have always wanted to teach and that's why I obtained my master's degree," she said, adding that teaching at the same college she graduated from is amazing. "I have always loved coming on to the campus. Even now, returning to this campus, I love it just as much as I did back then."