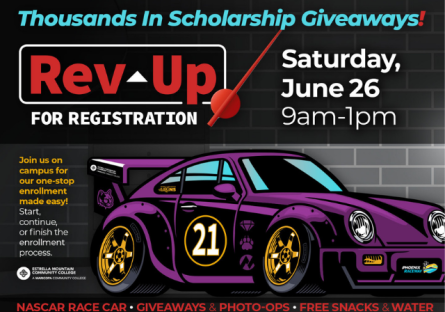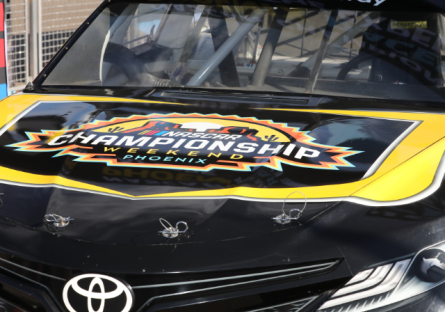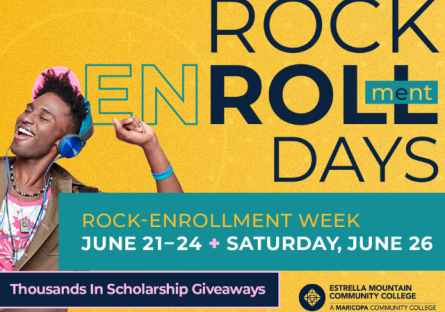 Enrollment event features scholarship raffles, giveaways, photo ops with NASCAR race car
---
Current and future Mountain Lions, start your engines and race on over to Estrella Mountain Community College (EMCC) on June 26. It's time to register for classes. And see a real NASCAR race car up close and personal (perfect for selfies!), take home some pretty sweet swag, and enter to win one of 50 $300 scholarships!
Rev Up for Registration is set for 9 a.m. to 1 p.m. June 26. The inaugural event will take place in and around Ocotillo Hall. Inside, you can make a pit stop to enroll, register for classes, apply for financial aid, speak to an advisor, and even make payment arrangements, all with the personalized help of our student support services staff.
"We want our current and future students to know that we are here to help them realize their educational goals," said Catrina Kranich, Student Services Director. "Our staff members are always eager to help students overcome any obstacle they may encounter along the way, and they are so excited to be able to deliver their services during such a fun event."
Outside Ocotillo Hall, you can celebrate as if you were on Victory Lane with music, giveaways, free snacks and water, scholarship raffles, and the chance to check out a machine that can go from 0 to 60 in 3 seconds and travel at speeds of more than 200 mph. The car is on loan from Phoenix Raceway in Avondale, home to two NASCAR race weekends each year.
"Phoenix Raceway values our deep relationships throughout The Valley, and Estrella Mountain Community College remains an important neighbor and partner," Phoenix Raceway President Julie Giese said. "We are happy to lend our support to Estrella Mountain's registration efforts and look forward to EMCC students joining us at upcoming events at Phoenix Raceway."
The EMCC-signature event is the culmination of Rock enROLLment Days, a districtwide initiative to help students successfully complete the enrollment and registration process. All hands will be on deck from 9 a.m. to 4 p.m. June 21-23 during Rock enROLLment Days to help students start, continue, and complete their educational journey.
So don't let yourself stall out. Zoom on over to EMCC on June 26 and let us help you take your educational dreams across the finish line.
A second Rev Up for Registration event is planned for 9 a.m. to 1 p.m. July 17. Both events are free and open to the public. EMCC is at 3000 N. Dysart Road, Avondale. To learn more about Rev Up for Registration, go to estrella.today/rev.