Wednesday, February 24, 2021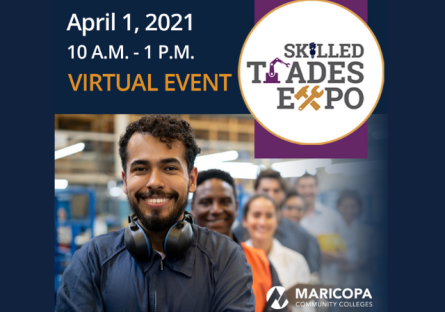 ***Please note the event date has changed to April 1, 2021.***
---
Are you interested in a career in one of the exciting, fast-growing fields of energy, construction, advanced manufacturing, or distribution but don't know where to start? Register now for the Skilled Trades Expo. The event is set for April 1 and you guessed it, it's going to be virtual, something event organizers are capitalizing on.
"Hosting the event virtually has given us the chance to expand the expo this year and really get the word out about all of the training and employment opportunities here in Arizona," said Paula Livingston, Dean of Instruction and Occupational Education at Estrella Mountain Community College (EMCC). "The West Valley, in particular, is growing by leaps and bounds so this is a great time for students to learn a skilled trade."
The expo, which is hosted by EMCC along with Mesa Community College, Central Arizona College, Pima Community College, Maricopa Corporate College, the Greater Phoenix Chamber Foundation, and WESTMARC, introduces current and prospective students to business and industry professionals who share information about job training, education, and employment opportunities in the skilled trades. Palo Verde, Rummel Construction, Forms+Spaces, Sunwest McLane, and Landscapes Unlimited are just some of the companies that will have a representative at the expo.
"We're so excited to partner with local companies to allow opportunities for current and potential students to get a feel for what it's like to work at each organization."
Expo participants can attend live presentations that include hearing from current and former students, getting help updating their resumes and preparing for interviews, and learning about educational program offerings.
"We have tried to incorporate several resources that are available for students, focusing not only on their career options but also on educational offerings and community organizations," Dean Livingston said. "We intentionally plan to include comprehensive resources into every student-centered event we host."
Attendees will also be able to create a PipelineAZ account to connect them with employers looking to hire interns, apprentices, and part-time and full-time employees.
To learn more about the Skilled Trades Expo and register, go to info.maricopacorporate.com/skilledtradesexpo2021.