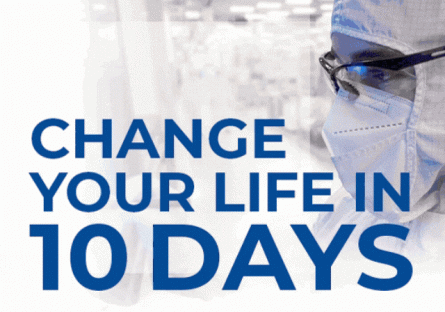 10-day program begins July 11; graduates also guaranteed interview with major company
---
Arizona is quickly becoming the global leader in the semiconductor industry and Estrella Mountain Community College (EMCC) wants so badly to put you in one of these high-paying, high-tech jobs that it will reimburse you at least $270 — the in-state tuition cost — if you complete its Semiconductor Technician Quick Start training program.
The Semiconductor Technician Quick Start is an intense, 10-day program designed to prepare you for an entry-level technician job in a semiconductor, or microchip, manufacturing facility. That could include performing inspections and conducting experiments on products, collecting data, performing analyses, evaluating products to verify they meet standards, maintaining and calibrating production equipment, or troubleshooting. Entry-level technicians typically start at $20 to $25 per hour depending on experience.
The Quick Start is taught by industry professionals and includes a mix of lectures, quizzes, and hands-on labs. No prior experience is necessary to attend the program, which is also offered at Chandler-Gilbert and Mesa community colleges.
The Quick Start runs every two weeks through the summer of 2023. Students who complete the program will receive a Semiconductor Technician, Level 1 certificate and three college credits. EMCC's first class begins on July 11 at EMCC@West-MEC, 500 N. Verrado Way, Buckeye.
The program caught the attention of U.S. Sen. Mark Kelly who toured the campus on May 31. The senator from Arizona has been championing efforts to increase domestic semiconductor manufacturing since being elected in 2020.
"A lot of microchips come from Taiwan and South Korea," he said during the tour. "There's a lot of risks involved for us from a national security perspective of relying on other countries. We need to bring that manufacturing capability back to the United States and fortunately, a lot of that is going to come to Arizona."
The state already is a popular choice for semiconductor companies. The Arizona Commerce Authority attributes it to our lack of natural and weather-related disasters such as earthquakes, hurricanes, blizzards, and tornadoes. According to the Greater Phoenix Economic Council, the Greater Phoenix area "has been a leader regarding top cities for semiconductor companies since 1949 when Motorola first opened a facility in the region." Today, many industry leaders — Intel Corp., ON Semiconductor, NXP Semiconductors, and Microchip Technology, just to name a few — call the area home.
EMCC has partnered with Taiwan Semiconductor Manufacturing Co. (TSMC) for the Quick Start program. Students who complete the program will be guaranteed an interview with TSMC, which recently broke ground on a facility in the Phoenix area.
Founded in 1987 in Hsinchu, Taiwan, TSMC pioneered the pure-play foundry business model meaning it manufactured devices for other companies without designing them. TSMC was also the first company to provide 5-nanometer production capabilities, the most advanced semiconductor process technology available in the world.
"We are delighted to work with Maricopa Community Colleges on this new program focused on the preparation needed for a rewarding career as a semiconductor technician," said Rick Cassidy, CEO of TSMC Arizona. "As one of the world's leaders, we offer our employees outstanding benefits, a fulfilling and inclusive culture, as well as the opportunity to help build the future of technology right here in Phoenix, Ariz."
To learn more about EMCC's Semiconductor Technician Quick Start program, go to https://info.maricopacorporate.com/semiconductor.