Wednesday, August 3, 2022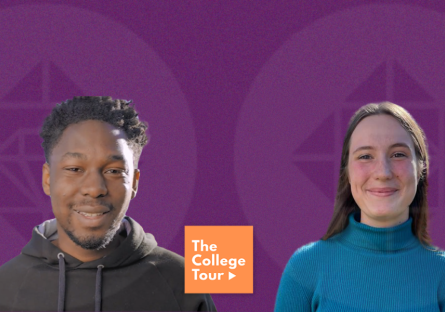 Estrella Mountain Community College (EMCC) is being featured on Season 5 of "The College Tour," but you don't have to wait till fall for it to drop, the episode is available now at https://go.estrellamountain.edu/tct-maricopa. 
"The College Tour," hosted by Alex Boylan, launched in the fall of 2020. The show, which is available on a variety of streaming services, highlights different colleges and universities through their students' eyes. The episode highlighting EMCC includes the other nine colleges in the Maricopa Community Colleges District and it was the first time that "The College Tour" featured a community college.
EMCC's student storytellers, Kayden Blakely and Shawn Holland, are both first-year college students.
Shawn, a film and media major, has enjoyed performing for others for as long as he can remember. He dropped out of high school to star in a film, but obtained his diploma shortly thereafter and took his mother's advice to give college a try. Once enrolled at EMCC, he knew he'd made the right call.
"Estrella Mountain Community College made sure I felt secure in my decision to go back to school at the age of 21," he said. "And made sure I had every resource available to help me enjoy my freshman year."
Shawn said that after he chose his classes with the help of an advisor, he was surprised at how excited he was to begin his first year.
"Estrella does a great job of showing how fun college can be for students such as myself who used to think otherwise," he said. "I find myself looking forward to my classes and hearing from my teachers about the projects we are working on."
Kayden, a journalism major, was surprised at how much just one semester of college is already helping her prepare for her future. She's planning on transferring to a university after two years and said EMCC's advisors are making sure she's on the right track.
"Thankfully, through the help of my advisor, I have a plan for the next two years," she said. "So that when I do transfer to a university, I'm fully prepared and I don't have to worry about any of my credits transferring over."
Kayden has spent her entire life searching for an outlet to speak on topics that she is passionate about. She first found that outlet in high school drama club, which led to her interest in journalism, and now she's finding it at EMCC, as well.
"Even though I'm only a freshman here at EMCC, I've already found so many great opportunities to write about things that are important to me, even in just a basic English class," she said.