Tuesday, February 1, 2022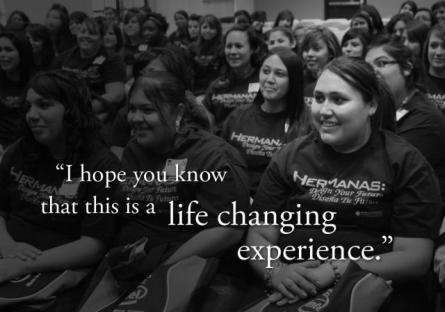 $75K Awarded to Maricopa Community Colleges in Support of STEM Outreach Programs
---
FOR IMMEDIATE RELEASE
February 01, 2022
AVONDALE, ARIZONA, February 1 – The Hermanas program at Estrella Mountain Community College (EMCC) just got a nice shot in the arm thanks to the Arizona Public Service (APS) Foundation. The Foundation recently awarded $75,000 to several Maricopa Community Colleges to support their STEM outreach programs and EMCC and Chandler-Gilbert Community College (CGCC) received $22,800 for their Hermanas programs.
The annual Hermanas Conference introduces teenage Latinas to science, technology, engineering, and math careers and majors in a fun and interactive way. Since 2006, EMCC has partnered with Intel Corp. to plan, design, and host the conference in an effort to increase the number of underrepresented Latinas in the STEM field.
"The Hermanas Conference is a great opportunity to introduce young women to college programs and career opportunities in the STEM field," said Laura Dulgar, EMCC Dean of Student Affairs. "The goal of this program is to increase college enrollment and graduation rates of young women in the STEM fields, and to increase the number of women going into the STEM fields."
Since its inception in 2005, Hermanas has served more than 6,500 students from more than 50 schools across Maricopa County.
"Young Latina girls aren't aware of the opportunities in technology. They don't realize that it's an option," said Hermanas Program Manager Maria Reyes. "This is a segment of our population that is most at risk of being unprepared to enter the workforce of the future."
Other Maricopa Community Colleges receiving grant funding from the Foundation include Phoenix College, which received $35,000 to benefit its STEM-focused, mentored, work-based experiences for underrepresented STEM students, and Mesa Community College, which received $17,200 in support of its annual Girls Get It! conference.
# # #
---
Estrella Mountain Community College is one of the ten colleges in the Maricopa County Community College District, one of the largest community college districts in the nation. A Hispanic-Serving Institution (HSI), EMCC offers academic courses leading to associate degrees, university transfer, certificates, and short-term job training to more than 14,000 students annually. The flagship campus is located on Thomas and Dysart roads in Avondale. Classes are also offered online and at the EMCC @ West-MEC Southwest Campus at 500 N. Verrado Way, Buckeye.
Media Contact: Trineka D. Greer  |  Marketing and Communications Director| Public Information Officer  |  mpr@estrellamountain.edu