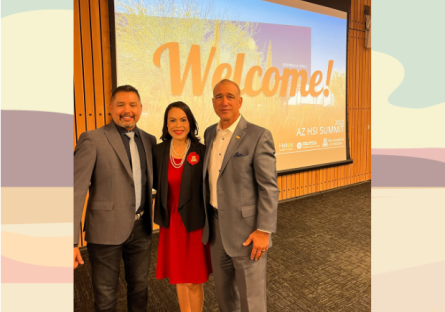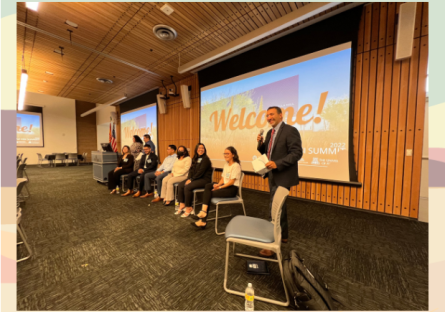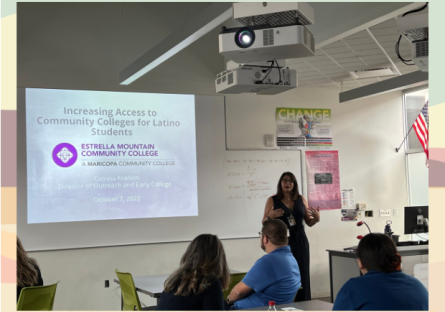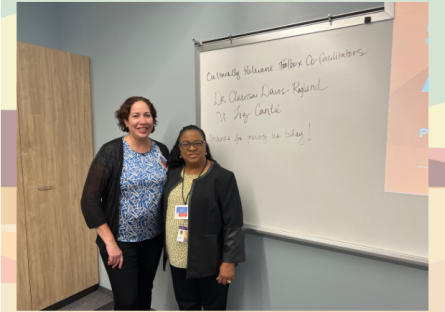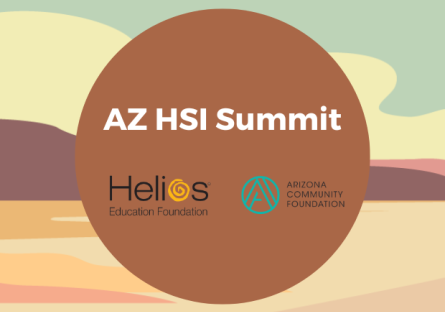 Estrella Mountain Community College (EMCC) was tapped to host the AZ HSI Summit. The inaugural event took place on Oct. 7 at the main EMCC Campus in Avondale. Registration for the highly anticipated summit filled nearly 30 days before the event took place. 
The in-person conference, sponsored by Helios Education Foundation and Arizona Community Foundation, welcomed over 250 faculty, staff, administrators, students, and community partners. It showcased and exchanged evidence-based practices that effectively and intentionally support Latinx students and build capacity among faculty and staff to teach and lead at Hispanic-Serving Institutions, or HSIs.
"HSIs are very diverse institutions," EMCC President and AZ HSI Consortium Co-Founder Dr. Rey Rivera said. "A lot of the students are first-generation college students. Many come from socioeconomic backgrounds that are probably lower than the national average. So we really have to focus on the 'Serving' part of the Hispanic Serving Institution title and take a holistic approach to develop our services and resources."
The summit kicked off with a continental breakfast and welcome remarks from Paul Luna, President and CEO at Helios Education Foundation; Bettina Celis, Maricopa Community College District Acting Vice Chancellor and Provost, Academic and Student Affairs; Dr. Marla Franco, AZ HSI Consortium Co-Founder, and University of Arizona Associate Vice Provost, Hispanic Serving Institution Initiatives; and Dr. Rivera. Dr. Gina Garcia, Associate Professor, Educational Foundations, Organizations, and Policy, University of Pittsburgh, delivered the keynote.
Breakout sessions such as "Learning from Students to Better Serve Our Students," "Undocumented Students Deserve Access to Higher Education," and "Theory Meets Access: Working to Increase College Pathways for the Underserved" followed, and the day concluded with a networking reception.
"It's been incredible to see such a positive response from the AZ HSI community," Dr. Franco said. "This inaugural summit marks an exciting time for convening some of the most intentional partners committed to advancing educational attainment among Latinx students in Arizona. This work is imperative, and it's just the beginning."
As of 2021, 559 HSIs were located throughout the U.S. and Puerto Rico, with 20 of them in Arizona. To be designated an HSI, a college or university must have a student body population that is at least 25% Hispanic.
EMCC has been designated an HSI since 1996 when its student population was about 28% Hispanic. Today, it is around 55%. The University of Arizona was designated an HSI in 2018 and currently has 26% Hispanic enrollment. Drs. Franco and Rivera founded the AZ HSI Consortium in 2021 to strengthen the individual and collective capacity of Arizona HSIs to intentionally support conditions necessary for Latinx student success in Arizona.
Individuals and organizations interested in staying abreast of future AZ HSI Consortium activities are encouraged to sign up for the listserv by visiting https://hsi.arizona.edu/hsi-initiatives/az-hsi-consortium.
---
Estrella Mountain Community College is one of the ten colleges in the Maricopa County Community College District, one of the largest community college districts in the nation. A Hispanic-Serving Institution (HSI), EMCC offers academic courses leading to associate degrees, university transfer, certificates, and short-term job training to more than 14,000 students annually. The flagship campus is located on Thomas and Dysart roads in Avondale. Classes are also offered online and at the EMCC @ West-MEC Southwest Campus at 500 N. Verrado Way, Buckeye.
The University of Arizona, a land-grant university with two independently accredited medical schools, is one of the nation's top 50 public universities, according to U.S. News & World Report. Established in 1885, the university is widely recognized as a student-centric university and has been designated as a Hispanic Serving Institution by the U.S. Department of Education. The university ranked in the top 20 in 2020 in research expenditures among all public universities, according to the National Science Foundation, and is a leading Research 1 institution with $761 million in annual research expenditures. The university advances the frontiers of interdisciplinary scholarship and entrepreneurial partnerships as a member of the Association of American Universities, the 66 leading public and private research universities in the U.S. It benefits the state with an estimated economic impact of $4.1 billion annually. For the latest on the University of Arizona response to the novel coronavirus, visit the university's COVID-19 webpage.