Saturday, October 8, 2022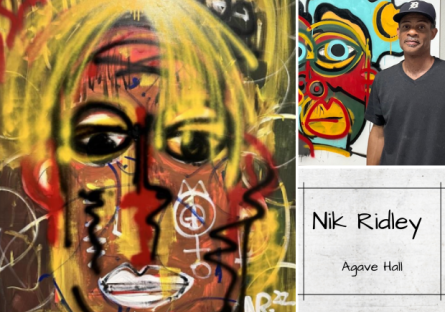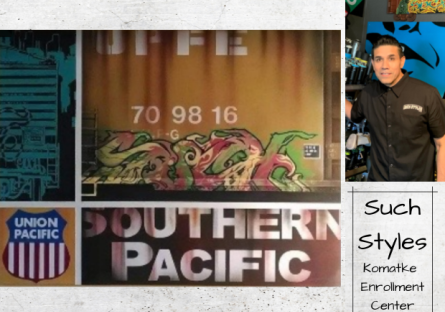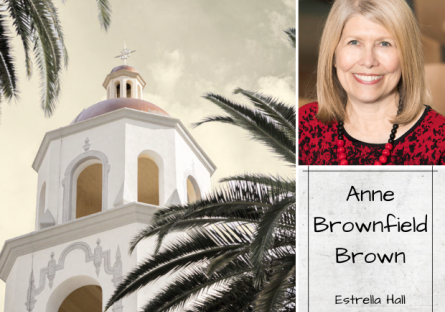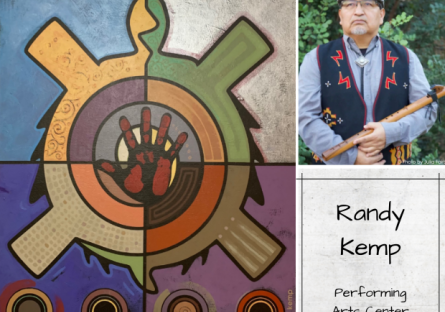 5 Arizona Artists' Works on Display Throughout Campus During Fall Semester
---
Estrella Mountain Community College (EMCC) invites students, employees, and the community to come to campus anytime during normal business hours and check out the Gateway to the Arts Fall 2022 fine art exhibit. The exhibit is spread throughout campus and features works from five Arizona artists.
Phoenix residents Nik Ridley and Garrett Etsitty both have works displayed in Agave Hall. Ridley's display, titled "The Art of Feel," features his primary motif — the human face. He said it's a group of mixed media works that draw from his recent experience of losing his home and art studio to a fire last May.
"Thankfully, I have a strong support system of family, friends, colleagues, and artists in the community who chipped in, in many different ways," Ridley said. "The outpouring of concern rejuvenated my spirit and confirmed the beauty of our shared communities. And I created a lot of art."
He describes "The Art of Feel" as an abstract interpretation, playing with negative space, line, shape, and color.
"I used both acrylic and spray paint to offer a dissonant, yet connected, rendering of our 'reality,'" he said.
Ridley's media of choice is acrylic but he recently started incorporating spray paint to add some softness. Often, he will include the number 4 in his works.
"The number 4 is symbolic of balance and continuity," he said. "I also incorporate it as a watermark so to speak — Basquiat had a crown, and I have a 4."
Etsitty's display features three paintings: "Color of Echoes," "War Horse," and "Shifting Visions." His media of choice is also acrylic.
"I'm a fast painter and I need paint to dry quickly," he said.
Etsitty was born and raised in Chinle on the Navajo Nation and said he grew up with a deep love of painting and culture.
"I paint for the love of painting but also for the love of my culture," he said. "I want to make our stories come alive. I want the viewer to feel like they can reach out and touch the stories that have been handed down."
Hummingbirds, which Etsitty said represent beauty in our culture, can be found in many of his works, the result of a rare encounter during his youth.
"Once upon a time, I caught a hummingbird and my grandpa told me to make a wish," he said. "I wished I was a fast painter and a good one. To this day, I believe it's taking me places."
Such Styles, another Phoenix artist, is set to have several works displayed in Komatke Enrollment Center beginning in November. Styles' street art career began in the early '80s with his underground wall and freight endeavors catching the attention of galleries, museums, and private collectors. His works have been displayed all over the state and he has permanent installations at the Arizona State University Art Museum, Phoenix Sky Harbor International Airport, the APS Phoenix substation, and the Musical Instrument Museum in Phoenix. His work has also been featured in television, film, and several publications.
Anne Brownfield Brown's display can be found in Estrella Hall. The Tucson resident combines a love of photography with her professional experience as a graphic designer. Her exhibit, titled "Adobe/Not Adobe," is a collection of digital photographs featuring historical structures in southern Arizona.
Brownfield Brown's interest in photography was sparked in college but she said it wasn't until she got her first digital camera that she started taking photos with zeal.
"The ability to see the results immediately and fine-tune the images on the computer rekindled my interest in the media," she said.
Brownfield Brown heard about the opportunity to exhibit at EMCC through the Arizona Commission for the Arts and is especially excited about this show because it allows her to display multiple pieces.
"The Arizona Commission for the Arts has a great site that lists upcoming calls for artists to show their work," she said. "The majority of these postings are for individual pieces. The college's listing stood out to me because it was an opportunity to exhibit my photos as a cohesive series."
Randy Kemp's exhibit is in the Performing Arts Center. The Mesa resident, who grew up in Sapulpa, Okla., is a multidisciplinary artist. His display features several acrylic and silk screen works of art with widely varied subject matter.
Kemp's artwork has been exhibited in museums, galleries, and private collections throughout the world. His body of work includes mixed media, painting, printmaking, film and theater, storytelling, and flute. He recently retired from a 30-year career as a graphic designer at Arizona State University and said juggling his various artistic endeavors with a full-time job wasn't as hard as one might think.
"It was the perfect place and people," he said.
Even so, he still thought he'd have more time after retirement, something that has proven to be happily untrue.
"You would think I'd have more time on my hands after retirement, but now I don't have enough time for artwork and performance," he said. "it's great!"
The exhibit is made possible through the Gateway to the Arts budget. A call for artists was put out in July and nearly 30 artists submitted works. The artists who were chosen each received $1,400 to lend their works to EMCC for a semester.
"EMCC has a strong fine art program and if we are training artists to be professionals, we should be modeling how artists should be treated," said Tim Butterfield, EMCC Coordinator of Fine Arts Facilities.
The five displays will be on exhibit throughout the fall and then four new artists' works will take their place for spring.