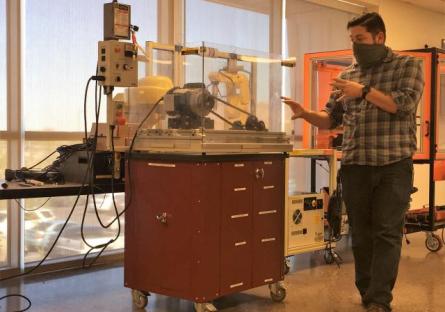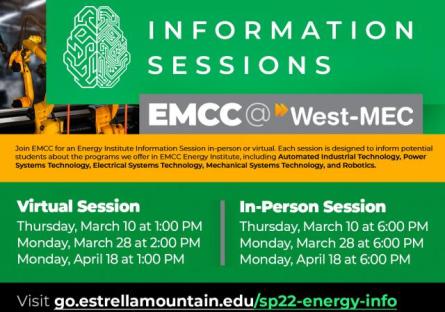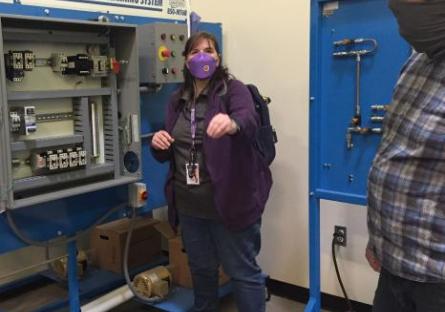 College Holding Info Sessions on Degree & Certificate Programs in March & April
---
Arizona needs more technicians in the automated industrial and power systems technology sectors and Estrella Mountain Community College (EMCC) is here to give you the training and certifications you need to work in these rapidly growing fields. Fields that just so happen to pay very, very well. Power plant operators, for example, average $80,000 a year in Arizona. Have we got your attention? Come to one of our Energy Institute Information Sessions in March and April to learn more about our affordable programs and check out the equipment you'll be learning on.
"We have the equipment to teach mechanical, hydraulic, pneumatic, electric, process controls, instrumentation, robotics, industrial maintenance, industrial safety, and more," said Professor Tim Wilson, Energy Institute Faculty.
You'll also have the chance to meet some of our phenomenal professors, many of whom have been working in their respective industries for several years and are experts in their fields. We have a head trainer from Palo Verde Generating Station teaching electrical maintenance and production, a program manager from the city of Phoenix teaching industrial maintenance, a former aircraft mechanic teaching mechanics, hydraulics, and pneumatics, a former Navy nuclear operator teaching reactor maintenance, and an OSHA authorized trainer teaching industrial safety. 
"I'm often humbled by the amount of experience we have," Professor Wilson said. "Our faculty and adjuncts know the material and want to see all of our students succeed. They're not just professors, they're also mentors."
Finally, you will learn about the careers that our programs lead to, including economic outlooks and salary information.
"Right now, automated industrial technology is growing rapidly in the West Valley, and is projected to continue growing for several years," Professor Wilson said, adding that companies such as REI, Amazon, SK Food Group, Target, and UPS are expanding or building new operations in the West Valley. "And Arizona is expanding energy production, which will create new jobs in the power plant technology industry."
The Information Sessions will be held online and in person at EMCC @West-MEC on Verrado Way just south of Interstate 10 in Buckeye. Online sessions will take place at 1 p.m. March 10, 2 p.m. March 28, and 1 p.m. April 18. In-person sessions will take place at 6 p.m. on the same days. 
"The same information will be presented in the online and in-person sessions, but people who attend the evening sessions will be able to come in and actually touch the equipment and see how it all works," Professor Wilson said.
---
Students in the Energy Institute can earn an Associate of Applied Science degree in Automated Industrial Technology or Power Systems Technology as well as several industry-recognized certifications. Open registration for the summer session and fall semester begins on March 21. To learn more, go to https://www.estrellamountain.edu/students/admissions.