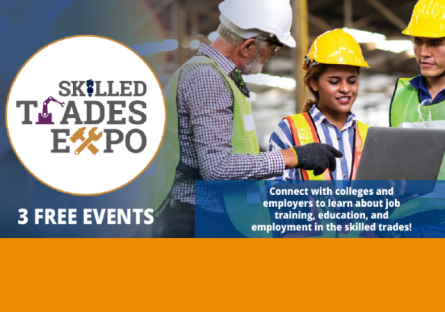 Public invited to virtual job fair beginning April 18, in-person-job fair April 30
---
Estrella Mountain Community College (EMCC) is excited to announce that the Skilled Trades Expo is returning to an in-person job fair this year and has expanded to include a virtual series of events leading up to the fair.
"This event has grown since its inception to include both virtual and in-person opportunities for employers and job seekers to learn and share information," said Landis Elliott, Workforce Development Manager at EMCC. "It is a very targeted approach to recruitment, focusing on matching job skills with job opportunities."
This year's expo kicks off with a virtual job fair hosted by Pipeline AZ that begins April 18 and runs through May 15. The expo continues with a virtual series of presentations from colleges and employers on topics such as job training, education, and employment opportunities from April 25 to 29.
Culminating the expo is the in-person job fair from 10 a.m. to 1 p.m. April 30 at EMCC at West-MEC, 500 N. Verrado Way, Buckeye. The job fair will feature employers in the skilled trades industries such as energy, construction, advanced manufacturing, and distribution.
The Skilled Trades Expo is free and open to the public.
The Skilled Trades Expo is a collaborative effort between EMCC, Mesa Community College (MCC), Central Arizona College (CAC), and Pima Community College (PCC) and is presented in collaboration with Arizona @Work, Build Your Future Arizona, Maricopa Corporate College, Pipeline AZ, West-MEC, and WESTMARC.