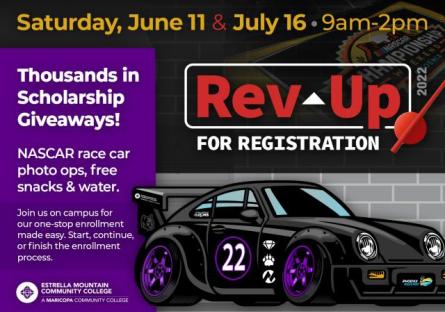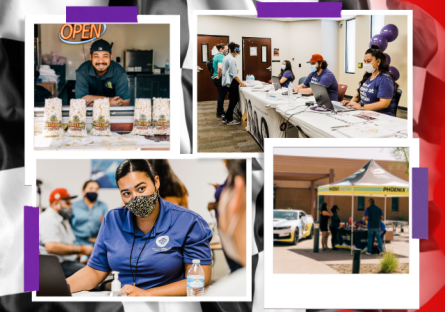 Hey, current students, future students, and those of you still thinking about college — it's time to start your engines! The fall semester is right around the corner and Estrella Mountain Community College (EMCC) is here to help you get registered and ensure you're on the right track with the second annual Rev Up for Registration special event.
Set for 9 a.m. to 2 p.m. June 11 and July 16 on campus, 3000 N. Dysart Road, Avondale, Rev Up for Registration provides current and future students with a one-stop-shop to start or continue the enrollment process. Attendees can speak with academic and financial aid advisors, enroll, register for their classes, and even make arrangements to pay for their classes at a later date — all in one day.
But a day at the track wouldn't be complete without selfies, snacks, and raffles so everyone in attendance will also have the chance to click away in front of a real NASCAR race car on loan from Phoenix Raceway, enjoy some free eats and drinks, and enter a drawing for the chance to win one of 20 $325 scholarships.
"Last year's inaugural event was such a huge success that we've been looking forward to this one all year," said Catrina Kranich, Student Services Director of Outreach and Early College. "Between our two Rev Up events last year, we had 245 students enroll in classes for the fall semester. And everyone had a great time."
She expects that number to be even higher this year because event planners decided to extend Rev Up's hours of operation and add additional resources.
"This is an awesome event for future students of EMCC because they have the opportunity to complete the entire enrollment process and meet with an advisor all in one day," she said, adding that the two Rev Up events are being held on Saturdays when the campus is typically closed for the summer.
"We're doing everything we can to make this event accessible to everyone. We know a lot of people have a difficult time making it to campus during normal business hours because they work full time, and they can't always get everything they need to get done in one visit. This is one day when they can get answers to questions about their enrollment status, meet with financial aid, and connect with their advisor."