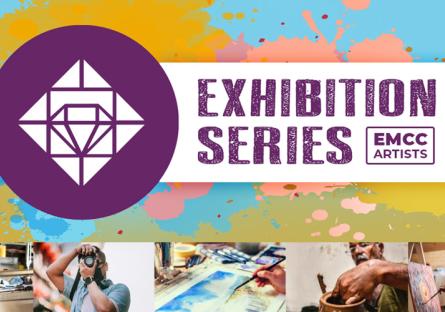 11 Artists Will Receive $1,000 to Have Their Works Displayed Throughout Campus
Estrella Mountain Community College (EMCC) is currently accepting submissions for its annual Gateway to the Arts fall and spring exhibition series. If your work is chosen, it will be displayed on campus for an entire semester and you'll earn a cool G!
"We have six slots available for the fall semester and five for the spring," said Tim Butterfield, EMCC Coordinator of Fine Arts Facilities. "Each slot pays $1,000 for the use of work on campus."
Butterfield feels strongly about the need to compensate artists monetarily noting that many galleries and institutions take advantage of them by offering "exposure" as payment.
"We're showing that we value the work of these artists," Butterfield said. "And we're modeling to our art students how they should be treated professionally."
Six artists' works will be displayed throughout the fall semester and five in the spring. Displays will be located throughout campus in Agave, Estrella, and Komatke halls and in the Performing Arts Center.
To submit your work for consideration, fill out this Gateway to the Arts Submission Form. You will need to include a bio, a photo of yourself, and a single PDF file featuring images of all work being submitted. You must be at least 18 years old and a resident of Arizona.
"Since 2019, we have been exclusively featuring Valley professionals in our many campus displays with a commitment to representation for our diverse student body and our surrounding communities," Butterfield said. "We are hoping that our continued commitment to excellence in the local, professional art world will soon grow into more opportunities for public art on our campus."
Artists who are selected for exhibition will need to register as vendors with the Maricopa Community College District and complete an Art Loan Agreement.