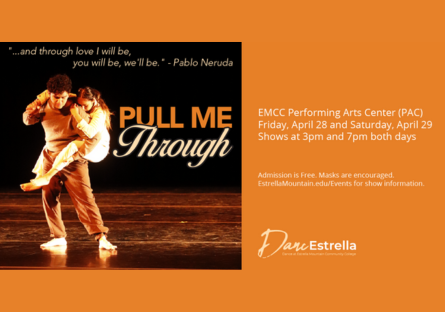 Spring Performance is Free & Open to the Public
DancEstrella, Estrella Mountain Community College's (EMCC) student dance company, is gearing up for its spring show, "Pull Me Through." Four performances will take place at 3 and 7 p.m. on April 28 and 29 in the Performing Arts Center on campus, 3000 N. Dysart Road, Avondale. The show is free and open to the public.
It's an exciting time for the dancers. They've been working hard all semester choreographing, collaborating, and dancing. But it's also bittersweet as "Pull Me Through" will be the final performance for the company after the difficult decision was made to discontinue the dance program.
"We greatly appreciate the hard work Artistic Director and Professor Janaea McAlee put into the dance program at EMCC and the opportunity for our students to showcase their work with a live audience in our beautiful Performing Arts Center," said Dr. Kimberley Harrell, EMCC Vice President of Academic Affairs.
Professor McAlee will retire at the end of the spring semester.
"We congratulate Professor McAlee on her impending retirement and wish her the best in her future creative endeavors," said Dr. Rey Rivera, EMCC College President.
"Pull Me Through" features practicum projects by graduating students; collaborative choreography by students; a dance by a guest choreographer and program graduate; and a final dance created and performed by the entire company with guest dance program graduates.
The final dance, titled "The Ties That Bind," is an homage to the community of students and productions that have crossed the Performing Arts Center stage, Professor McAlee said.
"Dancers with diverse movement styles and life experiences have come back to honor our time together and mourn the loss of the program by celebrating the enduring bond that lives on in our hearts," Professor McAlee said. "This production is a celebration of 10 years of EMCC dance."
Graduating students John Austin Boston, Mya Fallon, and Ryleigh Richards will present their practicum projects "My Unfolding," "Chronicle Article," and "Kindred," respectively. John Austin said his project looks at all of the different identities a single person has.
"It explores ideas of dissonance, harmony, and acceptance, all with the ultimate goal of forgiving ourselves," John Austin said.
Mya's project examines how sharing global and cultural traditions, including generational trauma, can lead to unexpected community, while Ryleigh's project honors those who provide support throughout one's life.
"Whether you know you need them or not, they are there, and your life is better because of it," Ryleigh said.
Seating is on a first-come, first-served basis. Each performance will be followed by a Q&A session with the dancers and choreographers. Masks are optional but encouraged. For more information, go to https://www.estrellamountain.edu/events/dancestrella-pull-me-through.