Tuesday, January 17, 2023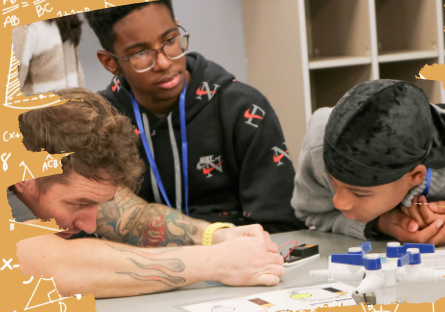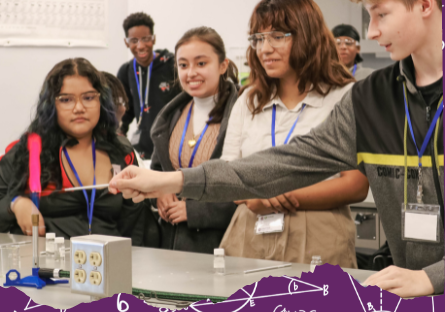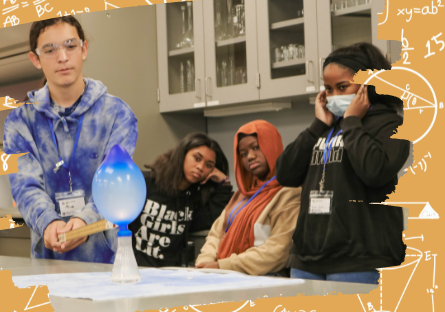 Dec. 2 Event Exceeded Expectations
---
Estrella Mountain Community College (EMCC) welcomed nearly 200 high school students and 15 educators to its Avondale campus last month for the Experience STEM Conference. This was the first year the annual event returned after being put on hold since the COVID-19 pandemic hit, and event organizers could not have been more thrilled.
"When the pandemic hit, it was heartbreaking that the massive momentum EMCC had built to inspire youth and the public to pursue higher education through hands-on STEM activities was put to a halt," said Liahla Roberts, EMCC's STEM Coordinator and event organizer. "Last summer, we knew it was time to start the planning and push forward back to the goal of inspiring the next generation to pursue higher education through fun STEM interactions."
The event took place on Dec. 2. Students and STEM teachers came from Agua Fria, Canyon View, Desert Edge, Millennium, and Verrado high schools, all schools within the Agua Fria High School District. Throughout the day, the students participated in hands-on STEM workshops, met current and former STEM students, and heard from community professionals about different STEM careers. Their teachers, meanwhile, attended their own conference, touring the MakerSpace, burrowing owl habitat, and community garden to learn how they are incorporated into the classroom and research projects. The educators also met with some of EMCC's community partners, university partners, and STEM partners, including Palo Verde Generating Station, to learn more about career paths and educator opportunities.
"This was my first time attending this conference and it exceeded my expectations," said Haley Walker, Agua Fria High School District Curriculum Specialist. "This was an excellent opportunity for Agua Fria High School District teachers to engage in professional development, have productive conversations about STEM, and network with EMCC staff and community partnerships."
The student workshops consisted of five different sessions: "Up and Atom," "Under the Microscope," "Earth and Space Exploration," "Material Science," and "STEM Student Panel." Students, some of whom had never even used a microscope before, were able to get up close and personal with lab equipment and conduct experiments. They learned how to get involved with NASA from EMCC alum and NASA Scholar Jonathan Greenfield. They heard about overcoming imposter syndrome from EMCC alum and current ASU student Zane Green. And they had a conversation with current and former students about their educational journeys through STEM. The students also toured the campus and met representatives from EMCC programs and industry and university partners.
"Our students walked away inspired to join the STEM field, from hands-on labs to observing objects at the cellular level using microscopes, and learning about the spectacular career opportunities in STEM," Walker said. "I love the fact that we were able to partner with EMCC, which is located right here in our community, to provide a STEM experience for our high school educators and students."
Roberts said the event came together very fast, but with the help of so many divisions and departments on campus, it was a huge success.
"Seeing the faces of not only the high school students and educators but also the EMCC staff and faculty reminded me why I do what I do and why it is so important," she said. "By the end of the event, I was in tears having been a part of such an amazing event with such amazing people!"
The event was made possible through a grant from Arizona Public Service (APS), Palo Verde Generating Station's parent company, and with support from the Maricopa Community Colleges Foundation.
To learn more about EMCC's STEM program, go to https://www.estrellamountain.edu/degrees-certificates/science-technology-engineering-and-mathematics.