Facilities Comprehensive Planning
As a college campus differentiated by design, Estrella Mountain has always focused facilities comprehensive planning efforts on building and creating innovative teaching and learning spaces, while integrating environmental elements and public art to reflect the culture and history of the surrounding West Valley community.
In 2005, Estrella Mountain Community College began its third phase of expansion as part of a districtwide, voter-approved general obligation bond program (district-wide $951 million program). The college received a $71M allocated for Phase III (a ten-year building program) for construction, capital and land. With fluctuations in construction costs and after an additional needs assessment, the college had to modify its original planning, and eliminate some of the later planned projects. However, throughout the process, the college has remained committed to designing new and reinventing existing spaces that not only enhance student learning, but continue to meet the needs of the students and community members they are designed to serve.
Complimentary to the capital development program, the college has formed creative partnerships that have increased the capability of services to our community. These partnerships, along with the implementation of Phase III, further Estrella Mountain's progress towards becoming a comprehensive learning college.
---
Facilities Comprehensive Planning & Partnership Projects
Campus Expansion Project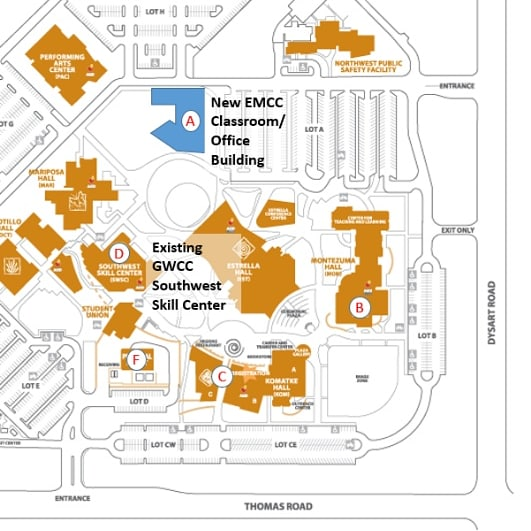 December 2021
The campus expansion project will address critical needs for both instructional and support service spaces at EMCC. The new construction and remodeling of existing areas will address space deficits that have been compounded by several years of consistent enrollment growth. The new centrally located EMCC building (37,000 sq. ft.) will contain ten academic multi-use classrooms, four flex-labs, faculty and administrative offices, and student support space. The new building will also include 6,000 square foot of new vocational/occupational labs allocated in support of the on-going partnership with the Gateway Community College Southwest Skill Center.
The campus expansion project also includes renovation work in the existing GW-SWSC, new Biology lab and lab support space in Montezuma Hall, and remodeling of the Komatke-A building for Enrollment Services. Furthermore, EMCC will make necessary improvements to the chilled water system at the central plant and build an additional parking lot to meet increasing student needs.
---
EMCC @ West-MEC Southwest

March 2016 - Partnership Project
The Western Maricopa Education Center (West-MEC) Southwest location in Buckeye (Arizona's largest city by land area) is well-positioned to accommodate the workforce development needs of lead industry partners, APS and its Palo Verde Nuclear Generating Station (PVNGS), and two of the West Valley's leading educational and career development partners, West-MEC and EMCC. The site is one of four projects for the career and technical public school district funded by a $74.9 million voter-approved bond in 2012. Phase I construction began in December 2014 and was completed in March 2016. EMCC served its first cohort of students at the campus location in the fall of 2016, launching inaugural programs in Energy and Industrial Technology.
---
Performing Arts Center

November 2015
EMCC's Performing Arts Center (PAC) is a 30,000 square-foot fine arts building. The PAC opened its doors to students in fall 2015 and contains individualized learning areas, including a dedicated Black Box Theater, Dance Studio, Media Technical Laboratory, Costume Shop, and Music Studio.
Entering the PAC, guests are greeted by a gallery providing exhibition space for local, national, student, and faculty art shows. A beautiful light sculpture titled "Breaking Sound" hangs above the lobby.The Main Theater, seating almost 300, is equipped with state-of-the-art technologies (i.e., digital projection capabilities) and professional structures (e.g., pipe grid, crossover orchestra pit and pit lift platform). Designed as a learning space with the ability to host community and national performances, the PAC is the final 2004 bond-funded project.
---
Estrella Hall Expansion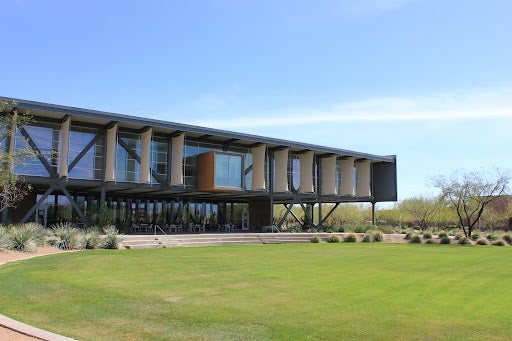 September 2013
The 43,566 square foot Estrella Hall expansion, which completes Phase III of the college's facilities comprehensive planning, began construction in February 2012 and the completed project was formally introduced to the community and students September 5, 2013, during the Grand Opening ceremony.
By retrofitting the existing space and adding physical buildings, the project expanded student learning opportunities to provide a centralized area for students to access learning resources. The various learning spaces are designed to reinforce student engagement and promote student success.
Adjacent to Estrella Hall is the college's new 7,969 square foot Conference Center, a free standing building capable of hosting community and campus events. The lobby also features the Estrella Mountain Donor Wall, which recognizes community members who have contributed to the mission and goals of the college. The large, multi-use spaces maximize student engagement and provide areas to support community and classroom events.
---
Public Safety Facility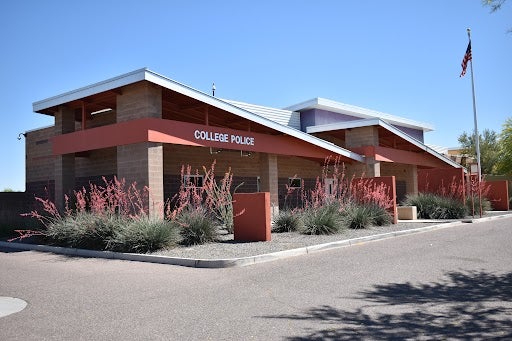 November 2010 - Partnership Project
The 19,000 square-foot building, located at 3200 N. Dysart Road on the north portion of the Estrella Mountain Community College campus, serves as an Avondale Police Substation, house two classrooms for EMCC instruction, and will be the new location of the college's public safety office.
"This is an example of a win-win partnership for the city, which built the $3.8 million facility, and EMCC, which provided the site on their campus," said Charlie McClendon, Avondale City Manager. "This satellite police substation will serve Avondale's northwest quadrant, provide an on-campus presence and eventually, accommodate new Fire Station 174."
"It is the mission of Estrella Mountain Community College to respond to the needs of the community and support learning opportunities for our students. This partnership allows us to fulfill both parts of that mission and is truly a model of community partnerships at their best," said Dr. Ernest Lara, president of Estrella Mountain Community College. "The new facility is going to provide our EMT, fire science and administration of justice students with real-world experience, and will also provide a unique opportunity for our campus public safety office to continue to build relationships with our agency partners."
---
Mariposa Hall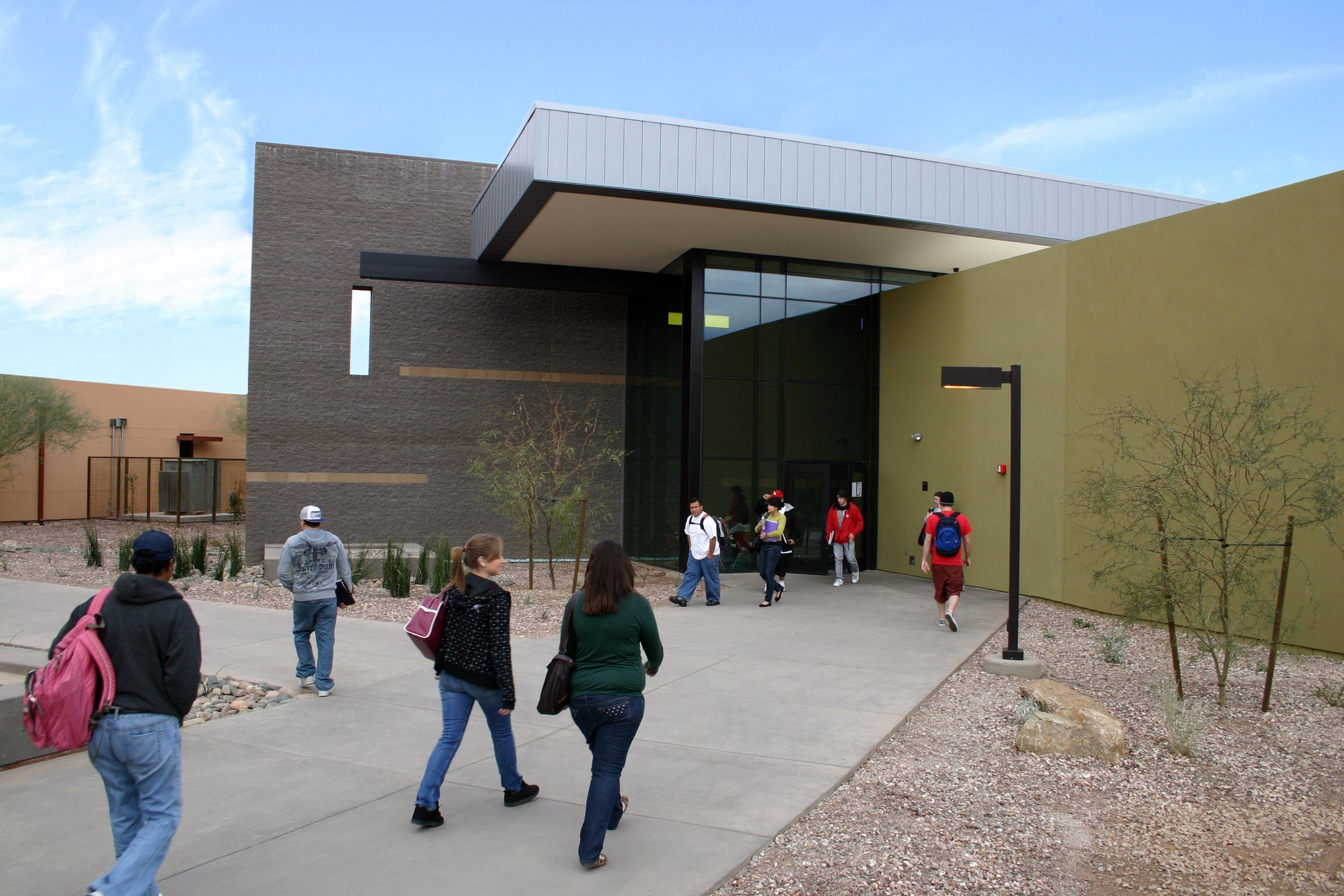 February 2010
Mariposa Hall, awarded with LEED (Leadership in Energy and Environmental Design) Gold certification, is a 25,000-square-foot building that houses nine learning studios, one multi-purpose lab, faculty and staff offices, and a state-of-the-art nursing lab.
The inherent design of Mariposa Hall is a culmination of ideas that speak to the notion of respect for nature thereby internalizing the message of sustainability. Use of local and recycled building materials, water conserving plumbing fixtures, rain water harvesting system, daylight harvesting system, energy conserving fixtures, and low chemical use interior finishes are features integrated into the building making it a healthy learning environment.
---
Transit Center, Additional Parking, and New Thomas Road Entry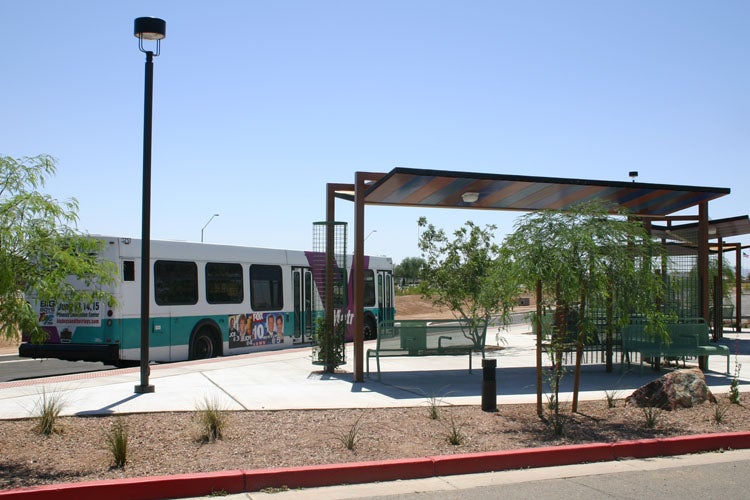 Spring 2008
In spring 2008, EMCC in partnership with the City of Avondale, completed a bus transit center, bringing approximately five more bus lines to campus. The project also included building a safe walkway from the transit center to nearby classroom buildings, adding more than 330 parking spaces to the southwest side of campus, and a second entry/exit to Thomas Road. Although completed, the partnership will continue with the college taking responsibility for the site, and the City of Avondale continuing to provide bus service through an agreement with the City of Phoenix.
---
Science Labs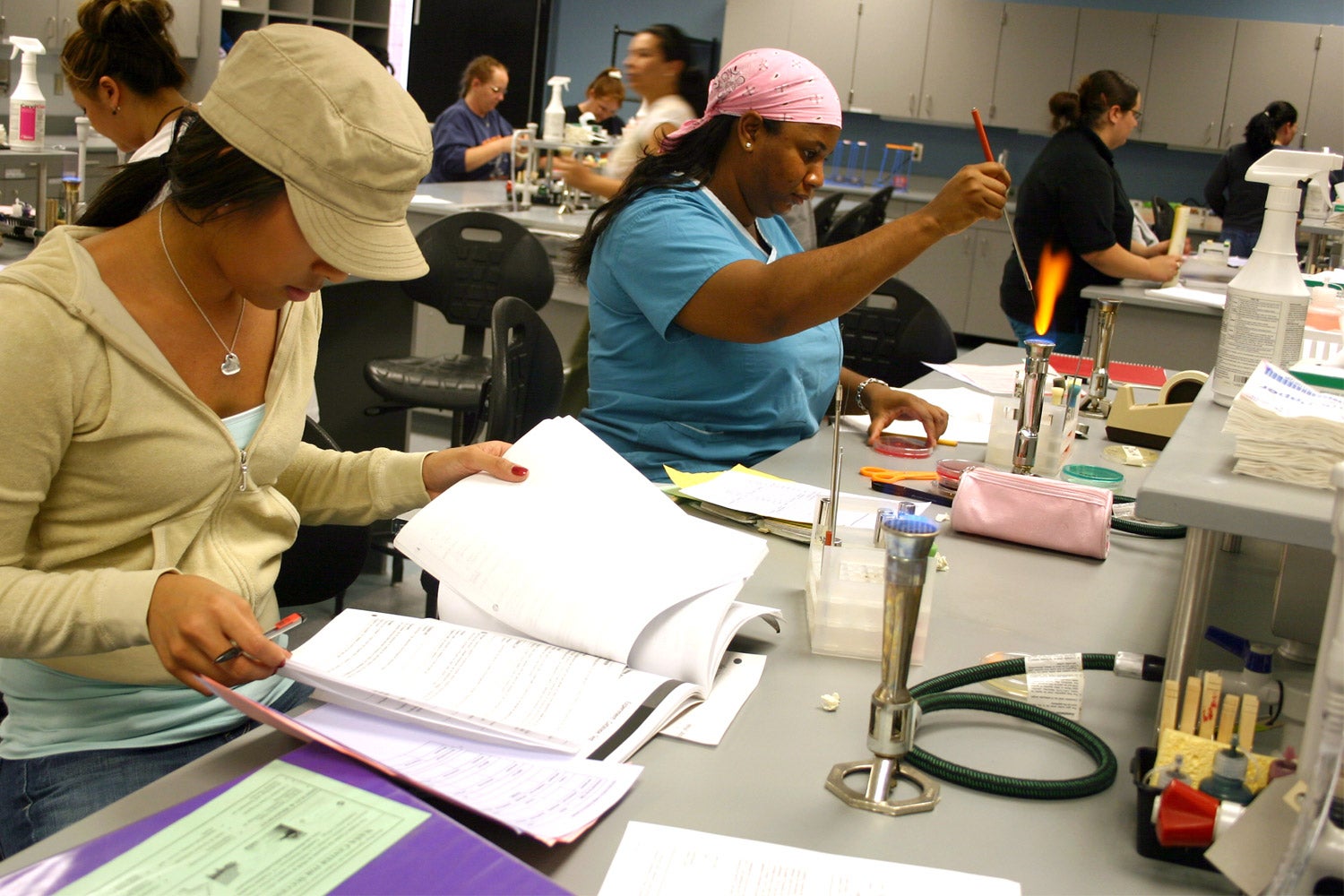 Fall 2007
Estrella Mountain Community College (EMCC) created eight state-of-the-art science labs and improved nursing laboratories in response to the growing demands of the West Valley community in the fields of bioscience and healthcare services.
As part of the college's capital development program, the institution remodeled 9,000 square feet of existing labs and added an additional 11,000 square feet, to bring the college's total to more than 20,000 square feet in dedicated science space. The project resulted in fourteen labs and two expanded preparation areas.
The institutional impact is that now, all students in science, math, engineering, and nursing pre-requisite programs utilize these eight new spaces. Students who are enrolled in one of these courses now experience fully equipped lab space that was designed from the start to the finish, utilizing the expertise of the faculty who teach and have professional experience in the specific science disciplines.
---
Ocotillo Hall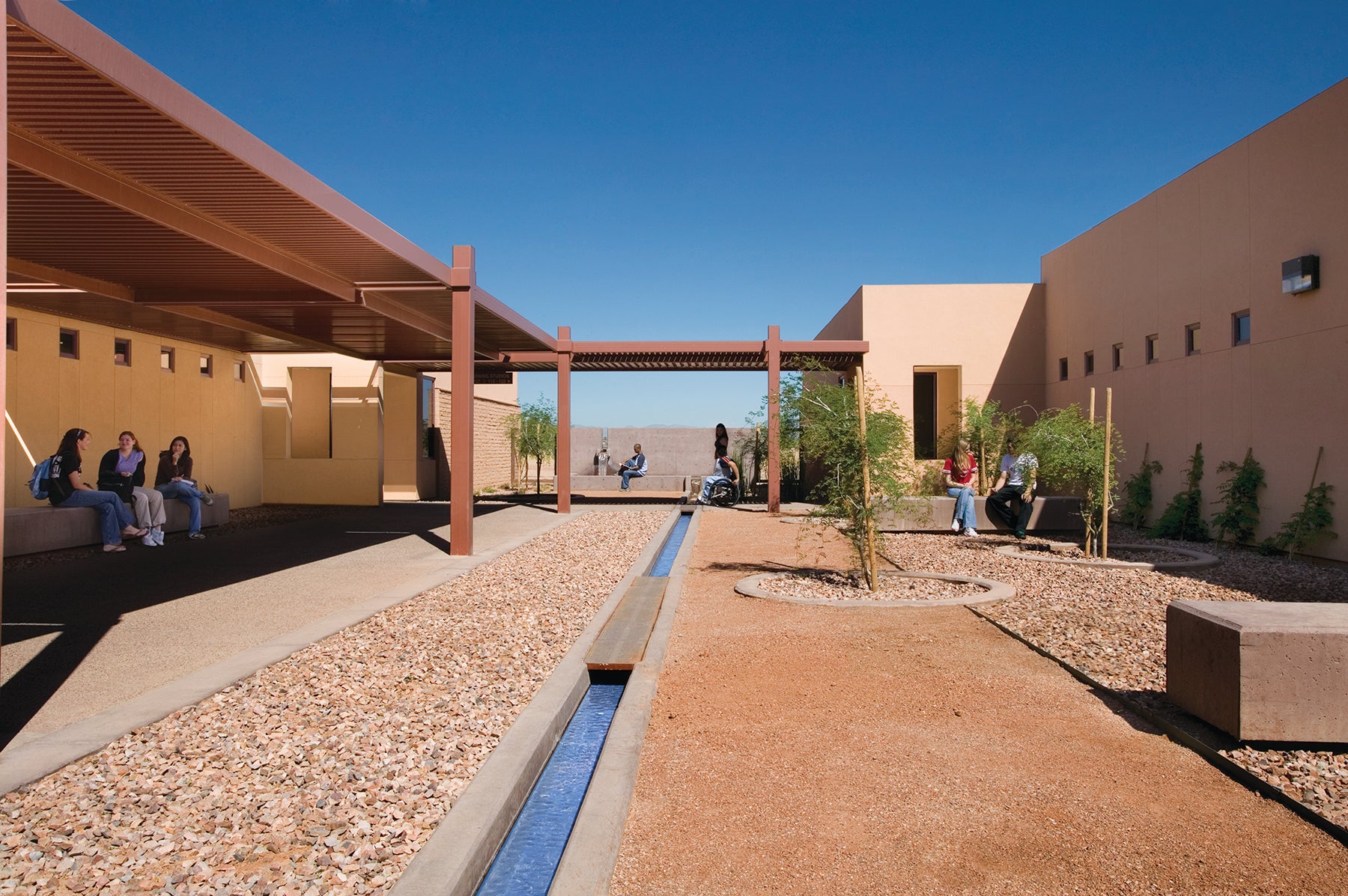 January 2006
Ocotillo Hall was the first capital project in Phase III. The 32,000-square-foot classroom complex features 22 learning studio classrooms, faculty offices, informal learning spaces, and the integration of the newest technology and advancements in learning space design.
When constructing Ocotillo Hall, leveraging physical space to promote student engagement and advancing teaching and learning was a priority. The result is a classroom facility that utilizes elements such as appearance, color, texture, arrangement, and technology to make students want to linger and learn.
---
Learning Spaces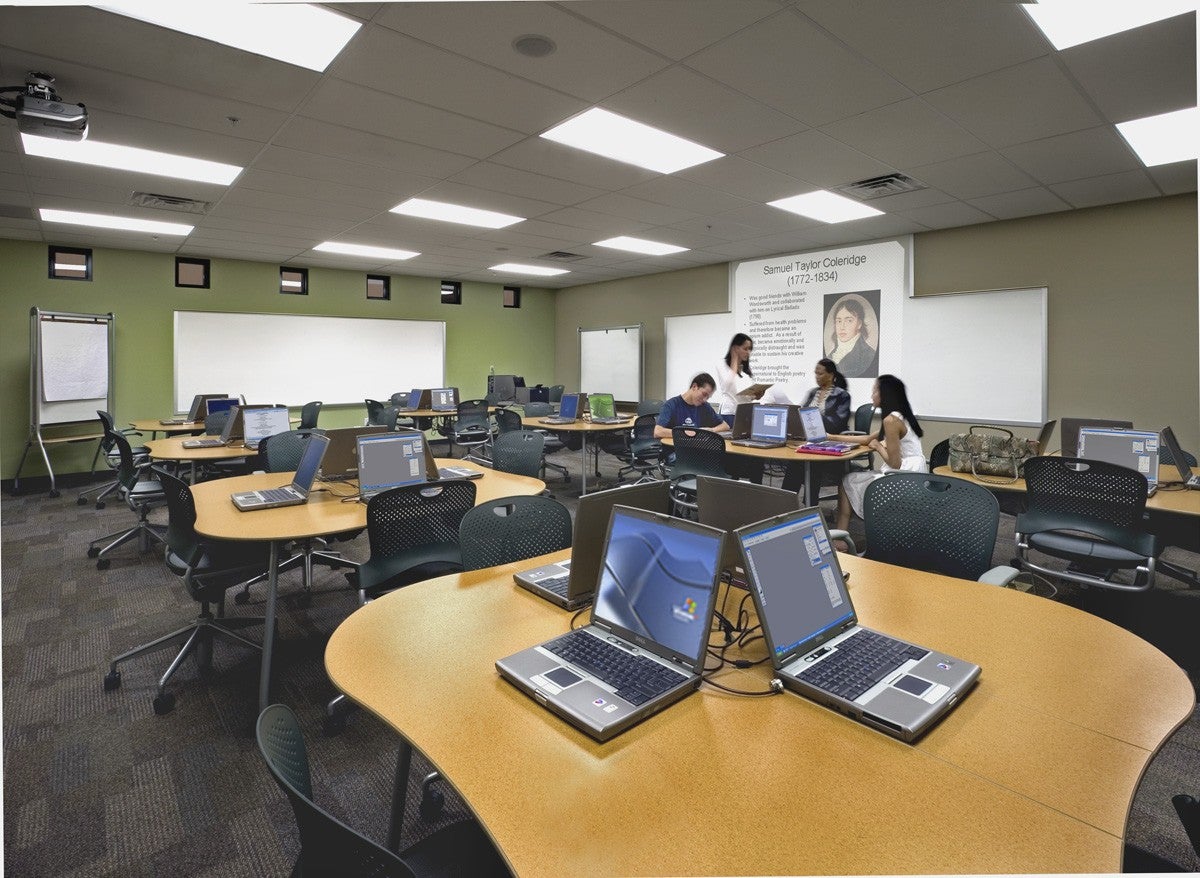 Spring 2005
Estrella Mountain explored more effective approaches to the traditional classroom learning environment and engaged in discussions that resulted in the unique transformation of two existing classrooms into prototype "Learning Studios." The new learning studios provided faculty and learners an opportunity to experiment with radical flexibility in space, furnishings and technology. Throughout the project, the college collected and assessed feedback from faculty and learners.
The experience convinced college leaders to abandon the traditional classroom format in favor of the studio model. Since then, the college has opened three new buildings, refurbished most of its traditional classrooms and has transformed 70% of its classroom spaces into learning studios.
---
Buckeye Land Purchase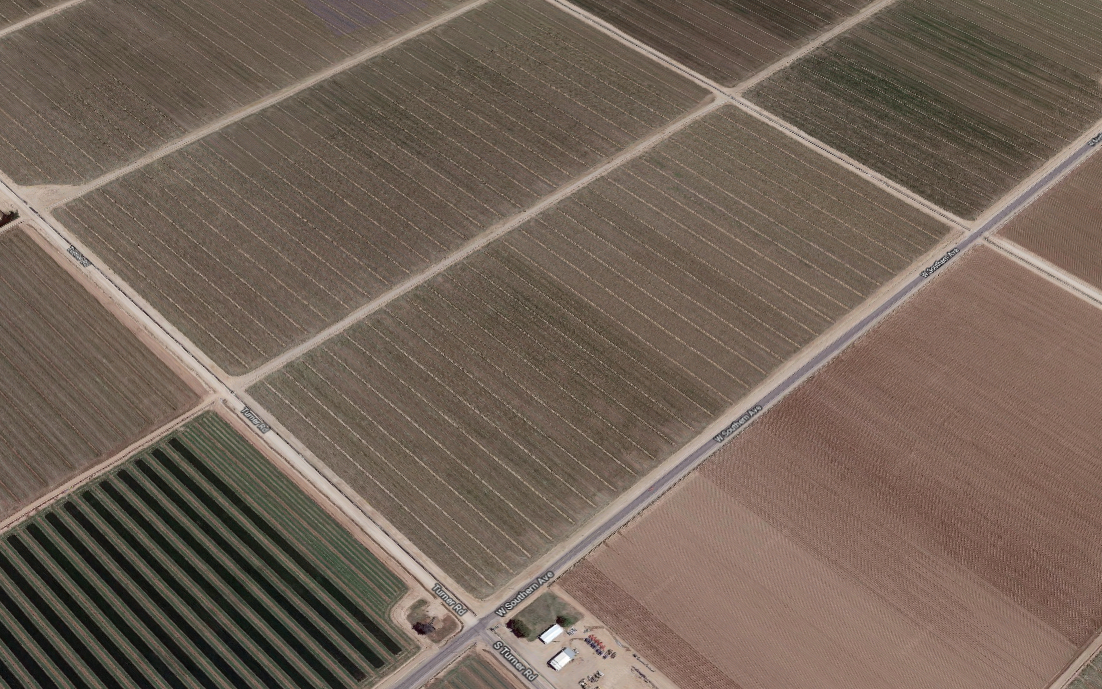 Spring 2005
In spring 2008, the Maricopa Community Colleges Governing Board contracted with Arizona Land Advisors (ALA) to complete a land purchase of approximately 80 acres in Buckeye, Arizona. Located approximately 22 miles from EMCC, the land purchased will serve as a future campus site and allow the College to meet the needs of a growing West Valley community. Land boundaries include: El Mirage Road, Northern Avenue alignments, the county line, and the Sun Valley Parkway alignment.