Wednesday, December 18, 2019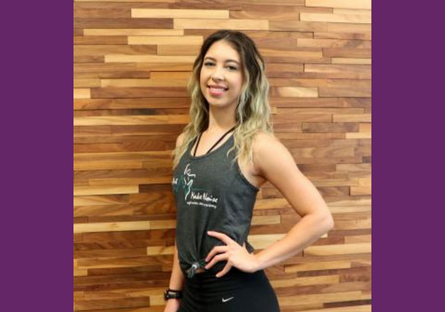 Editor's note: This is the seventh in a series of EMCC On The Job stories we'll bring you highlighting some of EMCC's former students and graduates in their new jobs. From opening their own restaurants to coding for international finance companies, EMCC students have gone on to great things, all because they left here well prepared. As former EMCC student Omar Gonzalez, who now works in our Technology Services Department, said, "The instructors here were very influential. They gave me a glimpse of what my career could be and now I'm living it!"
---
There's no place like home for Bryana Moller. The second (or third, depending on how you look at it) graduate of Estrella Mountain Community College's (EMCC) Dance Program has returned as an adjunct dance instructor.
"There was only one graduate of the Dance Program before me," Moller said. "The year I graduated, it was just me and one other girl, so I was the second or third graduate."
Moller obtained an Associate Degree from EMCC in 2015 and went on to Grand Canyon University where she earned a bachelor's in dance education two years later.
This is her first year teaching at EMCC. She teaches jazz, a style she prefers because it's what she's most comfortable with.
"It's the style that I like to perform the most and the kind of technique I feel most proficient in, so I feel like my students get more out of it," she said.
Her students' experience levels are quite varied. Some have been dancing since they were young children, while others have never danced in their lives.
"It is difficult to teach a class that speed, but it's also challenging for me in a good way," Moller said. "It pushes my teaching style and I always find modifications or accommodations so that everyone feels comfortable and they can progress."
Watching her students progress is something Moller loves most about her job.
"I absolutely love watching them truly learn and get better and progress and pick up things that they thought they never could," she said. "Watching the two students who have never danced before progress like they are tells me I'm doing what I'm supposed to be doing with my life."
Katelynn Brock, one of Moller's students, couldn't agree more.
"She's wonderful," Katelynn said. "I think she's doing an awesome job as a teacher. When we perform our dances for grades, she teaches the choreography and will give variations to each of us depending on our experience level."
Moller considers herself lucky to teach alongside one of her former instructors, Janaea McAlee, Residential Faculty Dance Professor.
"I think it's pretty great," Moller said. "We were really close when I was a student. She helped me out immensely, so I think it's really nice that we're still close in that way, but on an elevated level."
McAlee is thrilled to see an aspiring student return as a professional.
"Bryana was featured in the dance program promotional video, and to have her bring her love of dance back to teach the new students is an inspiration to them that your dreams can become a career," McAlee said.
Prior to attending EMCC, Moller already had extensive dance experience — competitive cheer in junior high and dance in high school — but she also had the tenacity and discipline it takes to make it in this business.
"That's what is needed to show up every day and dance even when you're tired or stressed," McAlee said. "It takes a maturity that Bryana evidenced from the beginning. A strong work ethic is both more important than talent and the means for developing the skill that allows that talent to shine consistently."
When she's not teaching jazz twice a week at EMCC, Moller teaches dance, cheer, and tumbling at Wight Noise Dance Co. in Peoria. She's also a member of Wight Noise's professional company.
"It's nice teaching children at Wight Noise and college students here at EMCC because it's giving me the chance to test the waters and see what age range best suits me," she said.
While Moller has watched EMCC's Dance Program grow exponentially, she's doing her part to further that effort, joining the newly formed Dance Program Community Council and starting up a Dance Club.
"I am actively working to grow the Dance Program and have established a Dance Program Community Council," McAlee said. "As a member, Bryana volunteered to establish and oversee the Dance Club as a way to help connect with students on campus who may be interested in dance and to build more awareness for the dance program here at EMCC."
The numbers don't lie. When Moller graduated, the Dance Program only had about 10-15 students.
"Now, I have at least that many in my jazz class," she said. "That's amazing."
To learn more about EMCC's Dance Program, visit https://www.estrellamountain.edu/programs/dance.
Interested in attending EMCC? Registration for the spring 2020 semester is currently underway. EMCC offers a variety of associate degrees and certificates and partners closely with Arizona State University, Northern Arizona University, and University of Arizona, as well as more than 40 out-of-state, private, and online colleges and universities, for transfer programs. Classes can be taken in person, online, or in a hybrid format. To begin your journey, visit https://www.estrellamountain.edu/students/enrollment-steps.