Wednesday, August 5, 2020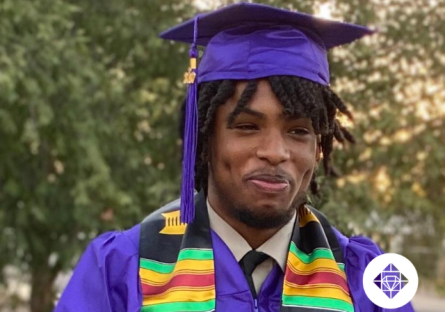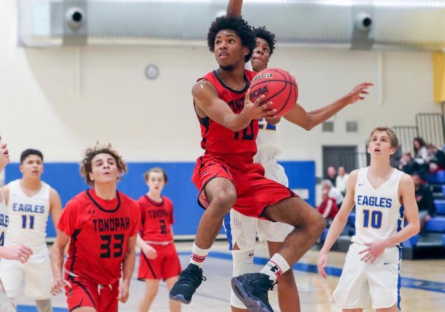 ---
Cameron Gates is looking forward to Aug. 15. That's when he'll walk across Estrella Mountain Community College's (EMCC) proverbial commencement stage and receive his Associate of Arts Degree. It won't be any ordinary ceremony. COVID-19 made sure of that. But that's OK, Cameron is no ordinary graduate.
Cameron is only 17. He hasn't yet graduated from home school high school. That doesn't happen until next spring. He's a site supervisor for the city of Litchfield Park. He's a standout on Tonopah Valley High School's basketball team. He's well-traveled, already having been to Canada, Mexico, Africa, Italy, Ireland, Spain, and most of the U.S. including Alaska and Hawaii. He's also Black.
Cameron describes himself as shy and quiet, yet he wants his voice to be heard.
"Despite all of my accomplishments, I still fear becoming the next George Floyd," he said.
It's a fairly new feeling for him even though his mother has worked tirelessly her entire life to protect him and his siblings from just that.
"I'm not sure why it took the death of George Floyd and all the protests to understand that as a Black male teenager, I'm at greater risk than my friends of losing my life to law enforcement," he said.
When Cameron was 10 or 11, his mother took him to meet a judge who showed him what the inside of a detention cell looked like. She also took him to Alcatraz where she explained the high percentage of Black males who have contact with the criminal justice system. When Cameron was 14, his mother took him and his siblings to meet the Buckeye Police Chief. She wanted photos of her children distributed to the city's police officers so that they wouldn't be "accidentally" shot or "mistakenly" thought to have a weapon.
"I now understand all the worry and concern my mother has whenever I go out," he said. 
He said it's sad to live like that and it's getting harder to believe that his education will be a key out of that madness, but nevertheless, he believes.
Education has always been a top priority in the Gates house. His mother is a lawyer and his father is a retired police sergeant. His mother graduated from the University of Michigan at 20 and Emory Law School at 23. His father graduated from Grambling University on a baseball scholarship. When Cameron was in sixth grade, his mother pulled him and his siblings out of Catholic school to homeschool them.
"She is an amazing mom," he said. "She sacrificed her career to make sure my siblings and I are successful. She reasoned that she wasn't happy with the statistics on how Black males did in America, so if my brother and I didn't do well in life, she'd prefer to blame herself instead of blaming the system."
Cameron began taking classes as a dual-enrollment student at EMCC when he was in the ninth grade.
"My mom wanted to have a gauge as to how I was doing with homeschool," he said. "She wanted to see how I did with other instructors aside from her."
Cameron is graduating from EMCC with a 3.7 GPA. Once he graduates high school, he plans on transferring to a university to get his bachelor's. He's hoping to attend on an academic and athletic scholarship. Prior to the COVID-19 pandemic, Cameron had already toured several universities including Princeton University, Winston-Salem University, University of Michigan,  Duke University, High Point University, California State University-San Marcos, University of New Mexico, and University of Windsor.
"I'm pretty open," he said "I really want to play basketball or football wherever I go. A few coaches have been in contact but they are limited to FaceTime interviews. The University of Chicago basketball coach seems to be really nice. I'm keeping my options open for now."
Cameron is confident that his time spent at EMCC has given him the tools and resources he needs to succeed.
"The tutoring center and writing center are excellent resources," he said. "Meeting with professors during office hours helped give guidance, too."
"My future is brighter because I don't have to be another statistic."
---
EMCC will hold a virtual commencement ceremony for its Spring 2020 graduates at 11 a.m. Aug. 15. The event will include video congratulations and a slideshow featuring graduates and their accomplishments. To view the ceremony, go to https://www.estrellamountain.edu/graduation.