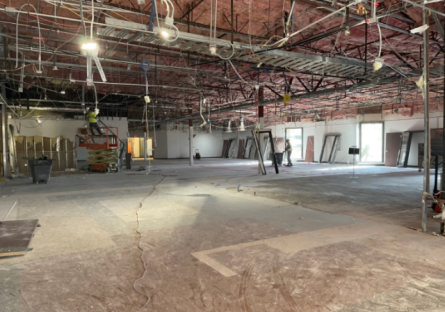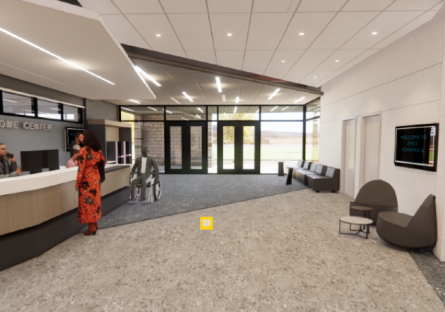 Excuse our dust, but here we go again! Estrella Mountain Community College's (EMCC) Komatke Hall is getting a makeover! Now that EMCC's internal departments have vacated the premises and moved into their new digs in Arroyo Hall — the college's newest building, which just opened this spring — demolition on Komatke has begun.
Komatke Hall is on the south side of campus along Thomas Road. It's actually two separate buildings divided into three sections: Kom A, Kom B, and Kom C. Kom C is its own building and houses Veterans Services, the Lion's Den Campus Grill, and Regions Restaurant, EMCC's culinary student-run eatery. Kom A and Kom B share the same building, with Kom A housing the departments that moved (the Mail Room and Copy Center, Human Resources, Marketing and Communications, etc.) and Kom B housing student services. This is the building that is being remodeled, beginning with Kom A.
The facelift, which comes in at about $3 million, is part of a $33 million expansion project that included the construction of Arroyo Hall, which also houses 10 learning studios, four flex labs, and faculty offices. The project was approved by the Maricopa Community Colleges Governing Board in 2018 to help alleviate EMCC's growing pains. At the time, students were being placed on waitlists because there weren't enough classrooms and student services employees were crammed into Kom B like sardines, some even overflowing into Kom A.
"Student Affairs has been located in Kom B since 2001 and our staff has increased along with the number of students we are serving," said Leda Johnson, Director Fiscal Services and co-project lead. "This remodel will provide the needed space to accommodate our student traffic and employee growth."
When all is said and done, the building will simply be known as Komatke Hall and house nothing but student services — Admissions, Records and Registration, Outreach and Recruitment, Student Business Services, Advisement, Financial Aid, the Deans of Student Affairs, Counseling, Career and Transfer Services, Disability Resources and Services, Testing Services, and the campus bookstore.
"The team really focused on the student experience and how the remodeled space would incorporate seamless services to our students," Johnson said.
The building is also getting a new entrance. Before the remodel, the student access point was on the north side of the building, but the parking lot is on the south side, so the entrance was moved to Komatke's east side.
"We wanted to create a front-facing entrance that could be seen directly from the parking lot and stand out," Johnson said.
Construction on Kom A is expected to be complete by November and then work on Kom B will begin with an estimated completion date of summer 2022.
"We are so excited to finally have one designated space to help our students accomplish their educational journey from start to finish," said Dr. Heather Weber, Vice President of Administrative Services. "Our priority is to see every one of our students reach their goal, whether it be a degree, certificate, or transfer, and this new and improved enrollment center will assist them every step of the way."
---
Ready to begin your journey at EMCC? Registration for the summer session and fall semester is currently underway and our student services specialists are available virtually and in person to help you get started. Go to https://www.estrellamountain.edu/students/enrollment-steps to learn more.