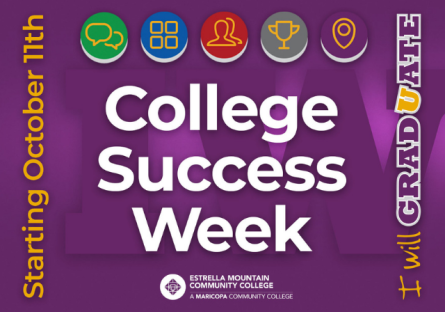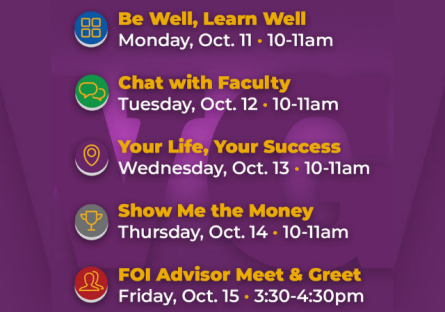 Annual event is Oct. 11-15
If you're already an Estrella Mountain Lion, you've probably heard the phrase "your success is our success." If you're not yet part of The Pride, join us and you'll hear plenty of phrases just like that. But we don't just talk the talk, we walk the walk. Current students, future students, and those in between are invited to College Success Week Oct. 11-15!
The annual event, held virtually this year, is designed to do exactly what its name suggests: promote college success.
"We want to see our current and future students not only persist but also thrive," said Dr. Patricia Cardenas-Adame, EMCC Vice President of Student Affairs. "Events like this provide students with many opportunities to get their questions answered, find scholarship money, learn different strategies to succeed, the list goes on. Students who have attended in the past have told us that the information shared is very beneficial."
The weeklong event kicks off on Oct. 11 with a conversation titled "Be Well Learn Well." Discover how you can boost energy, improve concentration, relieve aches and pains, mitigate stress, and rejuvenate emotionally to set yourself up to learn. On Oct. 12 you can "Chat with Faculty." This is when you get a chance to ask our professors questions and hear about some of the challenges they've faced and overcome.
"It's very encouraging for students to hear from respected professors who were once in their shoes," Dr. Cardenas-Adame said. "To know that they're not alone in the challenges they are currently facing."
College Success Week continues on Oct. 13 with "Your Life, Your Success." This presentation will identify and outline internal and external factors that play a critical role in student success. You'll learn college success strategies and methods to balance both factors while effectively navigating the student experience. You don't want to miss "Show Me the Money" on Oct. 14. During this session, you'll get help with financial planning, searching for financial resources, and completing a scholarship application. And finally, the week concludes with FOI Advisor Meet & Greet on Oct. 15 when you can meet with your Field of Interest (FOI) advisor, discuss your educational plans, and learn about opportunities within your FOI, just to name a few.
---