Saturday, August 14, 2021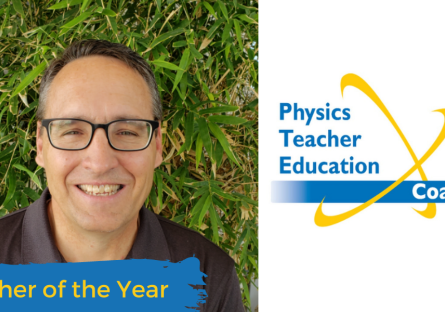 David Wirth loves his job. While the Estrella Mountain Community College (EMCC) physics professor admits he "enjoys the subject matter," what he really loves is teaching it. And he's good at it. He was just named PhysTEC's 2021 National Teacher of the Year.

"I did not expect this," he said. "I was surprised and humbled."

PhysTEC, or Physics Teacher Education Coalition, is a partnership between the American Physical Society and the American Association of Physics Teachers. Its mission is to improve and promote the education of future physics teachers. Professor Wirth was nominated for the award by Drs. Jane Jackson and Robert Culbertson, professors from his alma mater, Arizona State University (ASU), a PhysTEC member institution.

"David Wirth has quietly done an outstanding job of teaching physics and math for 29 years," said Dr. Jackson, who is the Co-Director for ASU's Modeling Instruction Program. "He continues deliberate practice to this day."

One of those practices involves using Modeling Instruction in his classroom. Professor Wirth explained that with Modeling Instruction, the students discover the model, or formula, for themselves through experimentation rather than just being given the formula. The students then practice using the model in various mediums to develop a deeper understanding.

"Developing models, analyzing models, and fun lab practicums makes a world of difference," Professor Wirth said. "This method puts the student at the center of their learning experience."

The PhysTEC award is given annually to one national and several local high school teachers who demonstrate the impact and value of physics teacher preparation programs. So how did an EMCC college professor earn an award that's given to high school teachers? Good question. Turns out, he also teaches at Millennium High School in Goodyear.

Professor Wirth has been teaching at EMCC since 1996 and Millennium since 2001. By day, he's a physics teacher and by night, he's a physics professor. But he doesn't approach his classes very differently.

"Both sets of students are motivated and have a desire to learn," he said. "I use many of the same techniques for both groups."

Since David joined Millennium, enrollment in his physics classes has steadily grown, no doubt in part due to his co-founding STEMCon in 2010. The annual districtwide expo saw more than 1,000 attendees in 2020.

"Our calculus teacher and I wanted to give our kids the opportunity to apply their STEM skills outside of the classroom in a fun and competitive manner," Professor Wirth said.

Professor Wirth also started a Science Olympiad club at Millennium. The club, which began about seven years ago, keeps growing and getting stronger, currently boasting around 25 members.

"I've always liked the Science Olympiad projects as many of them are applicable to physics," he said, adding that many of the club members return home from state competitions with ribbons and medals and a renewed enthusiasm and interest in STEM.

As PhysTEC's National Teacher of the Year, Professor Wirth will receive special recognition at the PhysTEC conference, funding to attend two professional physics conferences focused on education and teacher preparedness, and a $1,000 grant for classroom materials, which will come in handy for this grant-getting guru. Professor Wirth has procured more than $50,000 in grants over his 29-year career, continually upgrading his lab. He's even equipped it with 3D printers, robots, and drones.

"Much of physics is about finding relationships in nature," Professor Wirth said. "Rather than just giving students formulas to solve, it's more effective for them to experiment, collect data, graph, and analyze to discover models and relationships for themselves."

And it's working. His students consistently score above average on tests.

"My AP students are usually about 10% above the average and my International Baccalaureate students score above the world average consistently," he said. "It's so satisfying working with students helping them grow academically and then watching them leave the classroom and go on to do great things with their lives."

---

Interested in attending EMCC? Registration for the fall semester is currently underway. At EMCC, you will be taught by top-notch professors while earning your associate degree or certificate. And if you choose to move on to a university, EMCC's transfer programs make for a seamless transition. EMCC's classes can be taken in person, online, or in a hybrid format. To begin your journey, visit https://www.estrellamountain.edu/students/enrollment-steps.

 

 
 

 

---

---

'STEM has opportunities for everybody'

Professor Wirth helps keep his students interested in STEM by participating in the I Am A Scientist initiative, which provides teachers with educational resources designed to "challenge public misconceptions and inspire the next generation of STEM leaders."

One of the ways it accomplishes that is with posters that feature scientists from varying backgrounds. More than 20 of the posters hang in the hallway leading to Professor Wirth's classroom for students to walk by every day.

"I refer to the posters and scientists throughout the semester to help the students realize and believe that STEM has opportunities for everybody," he said.

This semester, one of his students' assignments is to read each poster and then write about which scientist connects with them the most and why.

"Hopefully we'll have some great discussions from that," he said.