Thursday, October 21, 2021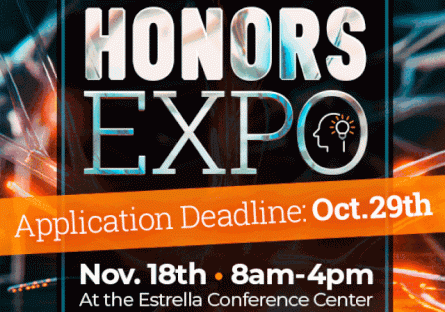 Honors Students Have Until Oct. 29 to Register to Present
---
Mark your calendars — Estrella Mountain Community College's (EMCC) Honors Expo is Nov. 18! It's being held in person from 9 a.m. to 4 p.m. in the Estrella Conference Center.
The expo, which takes place every fall, showcases the required projects that honors students have either completed or are in the process of completing through an Honors class or independently. There, they get to present their work in a formal setting.
"Our honors students receive a unique opportunity to explore different honors experiences, including the ability to take honors cohorts and sections and complete an Independent Honors Project while being mentored by a faculty member," said Aztlana Quezada, Student Services Analyst for the Honors Program and Phi Theta Kappa.
EMCC currently serves around 450 honors students. Students can join the Honors Program as Presidential Scholars, Honors Achievement Award Scholars, or Clarion Scholars, all of which come with scholarships.
Quezada said one of the many perks of being an honors student is that the Honors Program takes a holistic approach to learning.
"That's so students have the opportunity to participate in co-curricular activities and service-learning," she said. "Our staff is committed to providing support and encouragement to students so they can achieve their academic and professional goals."
Honors students have until Oct. 29 to register to present at the expo. All honors students are invited to present. Faculty members will serve as judges and the first-, second-, and third-place finishers will be invited to the Western Regional Honors Conference, hosted by the University of New Mexico, next spring. 
---
To learn more about Estrella Mountain Community College's Honors Program and how you can apply to be a Presidential Scholar, Honors Achievement Award Scholar, or Clarion Scholar, go to https://www.estrellamountain.edu/academics/honors/