Tuesday, October 26, 2021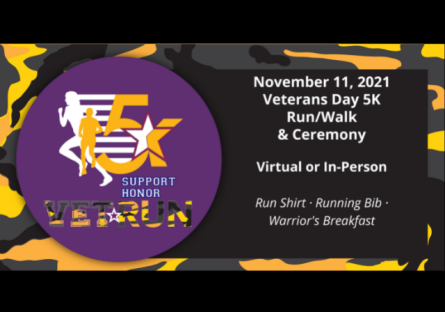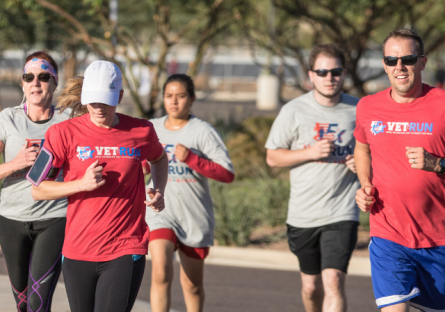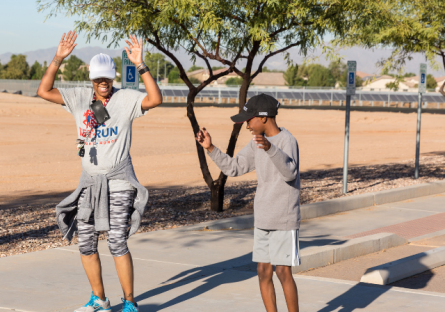 Annual event held in person Nov. 11
---
It's back in person this year! Estrella Mountain Community College's (EMCC) eighth annual Veterans Day Ceremony and Fun Run will be held Nov. 11 at the Estrella North Plaza on campus, 3000 N. Dysart Road, Avondale.
"It was held virtually last year due to COVID," said Robert Dorsett, Student Services Manager, Veterans Services. "We still had a great turnout, but these events are always more enjoyable when they're in person. There's that camaraderie while walking or running together, sharing breakfast, and honoring our service members during a live ceremony."
The day kicks off with the 5K Fun Run at 7:30 a.m. The 5K will include an obstacle course for those who'd like to flex their muscles with a tire flip, ammo can lift, and dummy grenade throw.
"It's a real grenade, but it's been drilled out," Dorsett said. "The kids really like it."
Following the 5K is the Warrior's Breakfast, catered by Chick-fil-A, at 8:45 a.m., and finally the Veterans Day Ceremony at 9 a.m., which will also be live-streamed by the city of Avondale via Facebook.
The entry fee costs $11.11 for veterans and military members and $25 for the general public. Those who register by Oct. 28 will receive a commemorative T-shirt. Proceeds from the event benefit EMCC's Veterans Increasing Persistence Program (VIPP).
"VIPP assists veterans in financial situations that may prevent them from going to school or completing a degree," Dorsett said. "It could be something like an unexpected car repair or a medical bill.
Veterans Services Center staff work extensively with students who request aid, helping them to set up a budget and connecting them to resources they may not have realized are available to them.
"We look at how much income is coming in and what's going out," Dorsett said. "If it's medical bills, we help connect them to the VA, which should be covering them."
To register for the 5K Fun Run, go to https://www.estrellamountain.edu/vetfunrun. 
---
EMCC is a certified Arizona Veteran Supportive Campus that serves upward of 900 veterans and their families every year. To learn more, go to https://www.estrellamountain.edu/students/veterans-services.