Thursday, September 23, 2021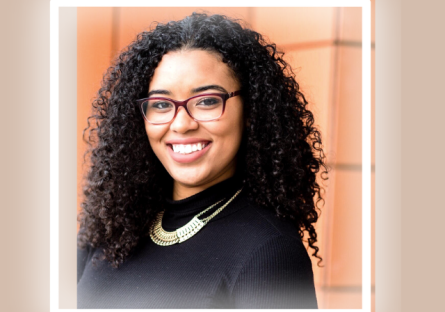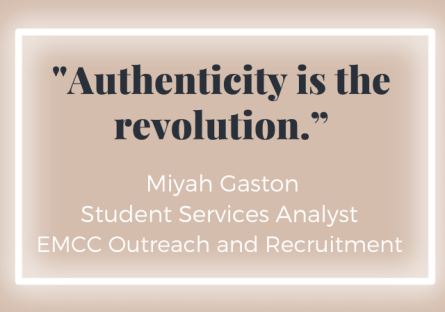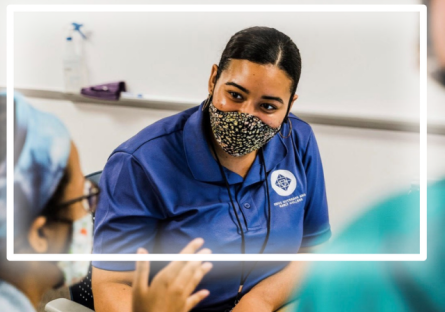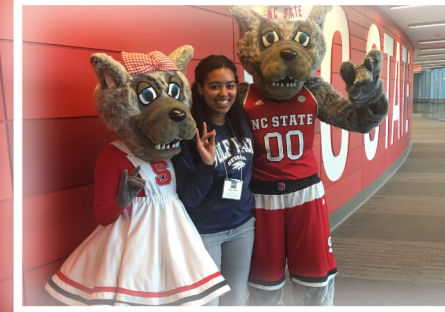 EMCC Student Services Analyst Co-authors Research Article
---
Authenticity ranks high on Miyah Gaston's list of important attributes. It's part of what inspired her to co-write the article "Faith got us through: Using scholarly personal narrative to explore spirituality and transition in a higher education graduate program," which appeared in Volume 2021, Issue 73, of "New Directions for Student Services."
"My inspiration is rooted in authenticity and counternarrative storytelling," said Gaston, who is a Student Services Analyst for Outreach and Recruitment at Estrella Mountain Community College (EMCC). "I was simply sharing my journey as a graduate student — it was autobiographical as much as it was a scholarly research piece."
Gaston, who is Black, earned her Master's in Higher Education Administration at North Carolina State University, a predominantly white institution. It was there that she met Dr. Christopher Travers, a Black professor who would later become her mentor and co-author of the article.
"He was hesitant to write this research article on spirituality and faith because it didn't seem 'scholarly' enough," Gaston said. "However, as a student in his class, he encouraged authenticity so I called him out on that and he extended the invite for me to co-write alongside him."
The article outlines how faith served as an anchor for Gaston and Travers as they transitioned through higher education. Gaston said her faith has evolved throughout her life and underwent the most revolution as an undergraduate and first-year graduate student.
"As I experienced microaggressions, microinvalidations, discrimination, and forced assimilation, my need to understand why it occurred and how to overcome it led me calling out to God for help," she writes. "My spirituality is shaped by the racially minoritized status I possess and the oppression I faced became the basis of my testimony. The core of my self-empowerment is my spirituality because it makes the trials, placed on by society, of being a Black woman in a white world manageable. As a result, my faith offers me comfort knowing I can always talk to God when it is hard to make sense of the world and my place in it."
Dr. Travers said Gaston possesses a rare combination of thoughtfulness, humility, critical thinking, and passion. 
"Miyah pushed me to pursue the manuscript we published together," he said. "She affirmed me when I experienced doubt regarding my gift and approach to writing. She's the kind of student and scholar-practitioner who motivates me to strive to be my best, just by showing up and being her authentic self."
Gaston initially had some doubts, herself. Imposter syndrome set in and she was hesitant but then realized that it was a blessing and privilege to be invited to cowrite the article. 
"I had an opportunity to redefine and reclaim what research and scholarly writing looked like and felt like to me," she said. "Storytelling is a powerful tool. Zora Neale Hurston wrote, 'If you are silent about your pain, they'll kill you and say you enjoyed it.' If there is something you are experiencing as a student, speak up about it, others are probably feeling the same thing. Amplifying voices brings character to the data our institutions use to make decisions."
Gaston said she hopes that the students who read her article learn how much they can control their educational journey by being themselves and working with faculty members in partnership.
"Bring your whole self into the classroom," she said. "Do not hide any part of yourself. You were made with a purpose, what makes you unique is needed in every space you walk into. Authenticity is the revolution."
She said she hopes that faculty and staff who read her article leave with an understanding of how important vulnerability and authenticity are in creating a transformative learning environment. 
"Be open to new ideas, make room for your students' identities and their experiences — merge those into your curriculum or outside of your curriculum," she said. "When students see themselves and their stories in the classroom, they will be more invested in the learning process and be more committed to the development that comes with learning."
Gaston originally planned on becoming a pediatric geneticist, earning her Bachelor of Science degree at the University of Nevada, Reno. But working as a resident assistant changed that.
"I never really understood what it meant to work where it doesn't feel like work until I became a resident assistant while attending undergraduate school," she said. "I loved it and made the decision to continue working in higher education."
In the article, she writes that she was driven to become a student affairs practitioner "to help empower other marginalized groups to find purpose and community while positioning myself to bring these experiences to the forefront and hold others accountable to this commitment."
Dr. Travers said he's confident that EMCC is a brighter place because of Gaston's presence.
"Miyah Gaston is a movement all on her own," he said. "I have no doubt she'll continue to leave a significant impact in each and every space she visits during her time at the college."
---
Are you interested in a career in higher education? Enroll now at EMCC by visiting https://www.estrellamountain.edu/students/enrollment-steps. With EMCC's Flexible Start Classes, you don't have to wait until spring to get started. Most classes start on Oct. 25. Visit https://schedule.estrellamountain.edu/classes/ to see the class schedule.