Monday, December 13, 2021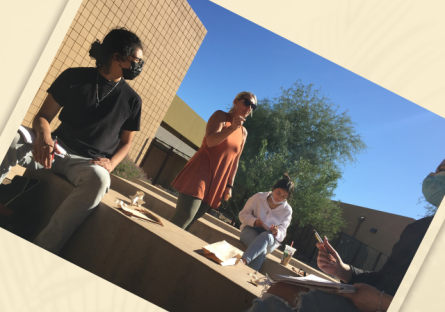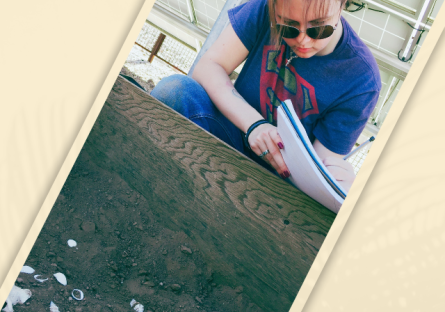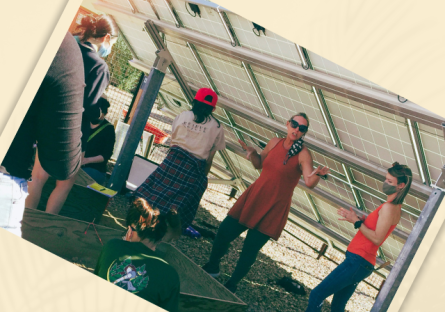 ---
Kristy Miller likes to play in the dirt. So do her students. The Estrella Mountain Community College (EMCC) professor recently introduced a simulated archaeological dig into her anthropology classes and her students couldn't be happier.
"I love everything we've learned in these classes," Victoria Neitch says while unearthing ancient "artifacts" on a warm, sunny October morning.
Victoria is taking all three of Dr. Miller's classes that are utilizing the dig lab — ASB 222 (Buried Treasures/Lost Tribes: Old World), ASB 223 (Buried Treasures/Lost Tribes: New World), and the newly offered ASM 104 (Bones, Stones & Human Evolution). She's studying Anthropology here at EMCC with plans to transfer to Texas State University in the next couple of years to major in Forensic Anthropology.
"I've always been curious as to why things happen the way they do, what happens to people, the skeletal system, everything," she says.
The dig lab was constructed in 2019, just before COVID-19 hit and all in-person classes were pivoted to a virtual environment. This is the first semester it's been put to use.
Each class gets one week in the dig lab — a series of raised beds near the solar panels between Mariposa and Ocotillo halls. Each bed is divided into sections with each student being responsible for one section. They begin by carefully searching for beads, pottery, bones, shells, and even leather, just to name a few of the "artifacts" Dr. Miller has hidden beneath the surface. Using trowels and paintbrushes, they meticulously uncover their finds while taking detailed notes.
"Remember, on a real dig, your notes do not belong to you, they belong to the site," Dr. Miller reminds her students. "So you need to be precise so someone a hundred years from now knows what you're talking about."
Dr. Miller knows a thing or two about a real dig. She's the Lab Director and Assistant Field Director for the UNESCO World Heritage archaeological site of Al-Baleed in Salalah, Oman. It's an Arabian seaport that once dealt in horses, coffee, and frankincense. She has spent six to nine weeks there annually for nearly 10 years.
"I'm in charge of all of the artifacts that come out of our area, I assist with excavation, and I teach students," she says while surveying her EMCC students' excavation skills to ensure they've uncovered every "artifact."
Satisfied that they've found everything, Dr. Miller moves on to a mapping lesson. On an actual dig, cameras, survey equipment, and even drones are used to map, but for Dr. Miller's purposes, her students sketch out their sections.
"In archaeology, the depth of things matter so we can see if everything is the same culture, the same time period, so we map things as far as depth, but also what is it associated with?" Dr. Miller asks her class. "What other things did we find together?"
Once her students have completed their sketches, they carefully remove their "artifacts" from the earth and take them "back to the lab" to be typed, which involves grouping things with like things and recording them. On this particular day, the outdoor seating area between Mariposa and Ocotillo halls works just fine as a makeshift lab.
"Put like to like," Dr. Miller instructs her students. "Put bones together, put beads together, put shells together, we're typing them."
Next, Dr. Miller teaches her students how to record their "artifacts."
"The artifacts need to be recorded so they can be found later," Dr. Miller says. "So we need to be able to use nomenclature that is the same for the site. We need to put an initial for each one of these things so we can come up with a numbering system so we know what we have."
Dr. Miller explains that the numbering system and nomenclature ensure that each item can be entered into a searchable database and physically located later for analysis and comparisons across the dig. After recording their artifacts, the students analyze them further and learn this about the "humans" who once occupied the site: They all had the same pottery, nothing fancy, so clearly, no trading was taking place. They ate plenty of seafood. And they made jewelry using beads.
Yet questions still remain.
"We're actually making jewelry here, that's pretty cool, so why are we not trading with somebody?" Dr. Miller posits to her class. "Is the jewelry just staying internally? Are we getting something back for it? What's happening?"
But time flies when you're having fun and just like that, the proverbial bell rings, and her students slowly filter out with those questions and more to ponder before their next class.
---
Are you interested in pursuing a career in Anthropology? Learn more at https://www.estrellamountain.edu/degrees-certificates/anthropology. Registration for the Spring 2022 Semester is currently underway. To begin your journey at EMCC, go to https://www.estrellamountain.edu/students/enrollment-steps.