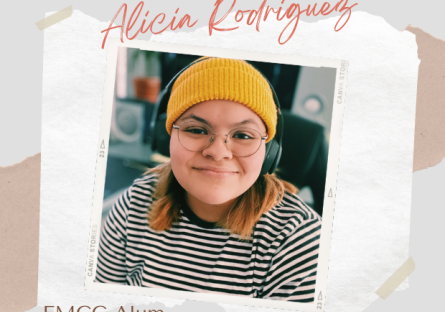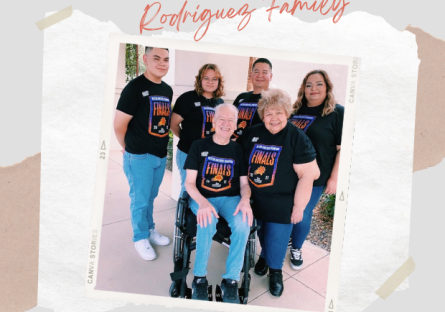 College Highlights Alicia Rodriguez for National Transfer Student Week
In honor of National Transfer Student Week, Oct. 17-21 this year, we'd like you to meet Alicia Rodriguez. Alicia graduated from Estrella Mountain Community College (EMCC) in 2021 and transferred to Arizona State University (ASU), where she is simultaneously pursuing a bachelor's and master's degree.
She's a first-generation college student. The oldest of two siblings, Alicia describes herself as the "test subject" for her family.
"I was the first to complete the high school/college admission process, so I got to pass some of those life hacks down to my brother when he stepped into the same situation," she said.
By "same situation," Alicia isn't talking about graduating from high school and then matriculating to college. You see, Alicia isn't just the first person in her family to attend college. She's also the first in her family to do it while attending high school. Alicia went to Arizona Agribusiness and Equine Center (AAEC). AAEC students concurrently enroll in college tuition-free, some earning an Associate Degree before they even get their high school diploma.
"I graduated with my Associate of Arts degree two weeks before I actually graduated from high school!" Alicia said. 
She earned 65 college credits with a 3.6 GPA but said it wasn't an easy process.
"I dealt with major social anxiety during high school," she said. "But through my school's journalism program and my amazing journalism teacher, I gained better public speaking skills."
She also dealt with a crowded house, new responsibilities, fear, and loss. During her senior year of high school (and sophomore year at EMCC), her grandparents moved into her family's three-bedroom home after her grandfather had been diagnosed with stage 4 renal cell cancer.
"By February, the house that was once covered in bookshelves and calendars didn't feel like my home anymore," she said. "It became a hospital, with medications lining our bookshelves. I was attending online school in my living room, while my grandfather was enduring chemotherapy and feeling radiation side effects in the background of my Zoom calls."
That July, just two weeks before starting at ASU, Alicia's great-grandfather died from dementia, and two months later, she lost her great-grandmother to COVID-19.
"I was three weeks into my time at Cronkite, and I was already writing the dreaded 'my grandma died, and now I can't come to class' emails to my professors," she said.
But her grandfather, who had been diagnosed with cancer, began improving.
"My grandfather, who started the year off with stage 4 cancer, bedridden, began walking again in December 2021," she said. "By March 2022, my family and I were blessed with the ability to move out of my childhood home and purchased a bigger home in Buckeye."
Her grandparents now have their own room, and Alicia serves as their caregiver.
"I've meticulously planned out my schedule, so I only have to commute to ASU on Tuesdays and Thursdays," she said. "And I've gained strong relationships with my grandparents. I get to cook and clean for them every day, and I have the ability to make every day an adventure for them."
When she's not caring for her grandparents, Alicia is working on both degrees through ASU's accelerated "4+1" program, which allows students to earn their graduate degree a year after completing their undergraduate degree. She's studying journalism and mass communication and hopes to work in public relations or strategic communications for an elementary or high school district.
She said she's not living the life she planned, but she's learned some valuable lessons over the last two years.
"I've learned to take life day by day," she said. "I've learned to cherish the relationships in my life, and I'm learning to stick with people who can appreciate life for what it is. It's complicated and messy — you can't strategize for the unknown; you can only hope that you'll have the strength to handle it."
Sounds like she will do just fine in public relations.