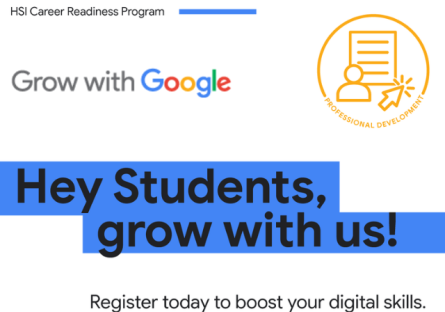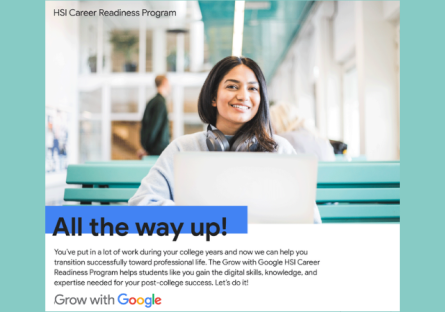 Estrella Mountain Community College (EMCC) students can receive free training to better prepare them for the workforce thanks to a new collaboration with Google. On July 28, EMCC announced that it is participating in the Grow with Google HSI Career Readiness Program.
The program, which Google launched in partnership with the Hispanic Association of Colleges and Universities (HACU) last January, offers all students at Hispanic-Serving Institutions, or HSIs, free digital skills training, and career workshops. Google has invested $2 million into the program to train 200,000 Latino students by 2025.
"Estrella Mountain Community College is excited to collaborate with Grow with Google's Career Readiness Program to provide our students with complimentary access to digital tools and career readiness courses," EMCC President Dr. Rey Rivera said. "Grow with Google complements the various degree and certificate programs EMCC offers our students and alumni as they work to obtain the skills they will need to navigate the digital world and prepare for their future careers or business ventures."
According to Google, Latinos are significantly underrepresented in occupations that require digital skills, occupations that will represent two-thirds of all jobs by the year 2030.
"Hispanic-Serving Institutions are key in educating and training students to succeed in the current and future economy, especially in light of the competitive job market," HACU President and CEO Antonio R. Flores said. "Our partnership with Google on this initiative will ensure they graduate with the skills and training that prepare them for the digital workplace."
Grow with Google was launched in 2017 to help Americans grow their skills, careers, and businesses. It provides free training, tools, and expertise to help small business owners, veterans and military families, jobseekers and students, educators, startups, and developers. Since Grow with Google's inception, it has helped more than 8 million Americans develop new skills.
"Every student should have the opportunity to learn digital skills for today's in-demand jobs," said Tia McLaurin, Community Engagement Manager, Google. "We're proud to work with the Hispanic Association of Colleges and Universities to bring the Grow with Google HSI Career Readiness Program to Estrella Mountain Community College to help more students prepare for the workforce and thrive as they start their careers."
If you are an EMCC student interested in participating in the Grow with Google HSI Career Readiness Program, email workforce@estrellamountain.edu to register and get started!
Not an EMCC student? Enroll now, and you, too, can take advantage of this exciting program! To begin your journey at EMCC, go to https://www.estrellamountain.edu/students/enrollment-steps.