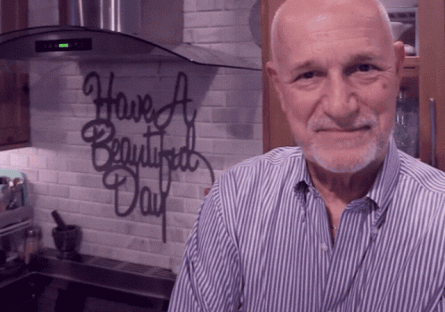 Fashion Institute of Design and Management Highlights Jim Heinrich in December Issue
---
Estrella Mountain Community College (EMCC) Professor Jim Heinrich's Adobe Photoshop and Adobe Premiere Pro classes recently participated in a virtual workshop offered by the Fashion Institute of Design and Management (FIDM), and the school was so impressed with Heinrich's teaching style that it featured him in its December Educator Spotlight.
During the workshop, titled "Behind the Scenes: Digital Media & Digital Cinema," Heinrich, who is also EMCC's Multimedia Technologies Institute Director, asked the presenters to pause whenever a critical point was made so that his students could break out into smaller "Think/Pair/Share" groups. He'd then pose a question, give each group 30-45 seconds to chat about it, and then each group would share its consensus with the presenters.
"That's the good ol' Think/Pair/Share method of engagement that gives even the shyest student a chance to be engaged in critical thinking," Heinrich said. "Although the Educator Spotlight article focuses on me, it was really the students' Think/Pair/Share critical thinking and discussions with the presenters that made the workshop a success."
Along with the Think/Pair/Share technique, Heinrich also incorporates what he calls "skill drills" into his classroom, explaining that because he teaches Adobe products, which have an extreme learning curve, students must first master the terms, tools, and techniques before they can create their class projects. 
"'Skill drills' are follow-me activities whereby they copy exactly what I am demonstrating as I project my screen throughout the step-by-step assignment," Heinrich said. "We do not move to the next step until everyone has successfully completed the current step. From Day One, my students know that I 'teach for mastery,' meaning their mastery, which can be accomplished only if I stop after each step and check everyone's work. Yes, that formative assessment process can slow down instruction, but, since every student eventually needs my help, they soon understand that the slow-go process ultimately benefits everyone."
This is the first time that Heinrich's classes have participated in a workshop with FIDM, or what he calls the "Harvard of Design." In years past, he would invite a representative from the school to speak to his classes. But this year, FIDM decided to host virtual workshops, and the workshop it offered Heinrich's classes just happened to tie in with what his students were studying and producing.
"It was super serendipity!" he said, adding that his spring classes will participate in FIDM workshops as well. "There were two big takeaways for my students. No. 1, I saw heads nodding up and down — you know how it is when you see and hear 'pros' talk about what your teacher is saying, that's validation. No. 2, the students appreciated that there is an exceptional next-step institution that is focused totally on design, and some even asked to be contacted by the area rep."
Before joining EMCC full time about six years ago, Heinrich taught photography, theater, show choir, and yearbook at Dysart High School in El Mirage for nearly 25 years. While teaching at Dysart, he also served as an adjunct professor at EMCC for 10 years.
"My love for teaching is deeper than it being a nice job," he said. "Teaching, in the sense of facilitating people's journey along their life path, is in my bones. It's why I'm here on Earth, to give everything I can to the betterment and encouragement and engagement of those amazing people who choose to walk through my classroom door."
---
EMCC's Multimedia Technologies Institute provides students with hands-on learning opportunities that mirror what is found in the multimedia, web design and development, and desktop publishing industries. To learn more, go to https://www.estrellamountain.edu/institutes/multimedia-institute. It's not too late to register for the spring semester. Classes start on Jan. 19. Get started today at https://www.estrellamountain.edu/students/enrollment-steps.