Sunday, November 27, 2022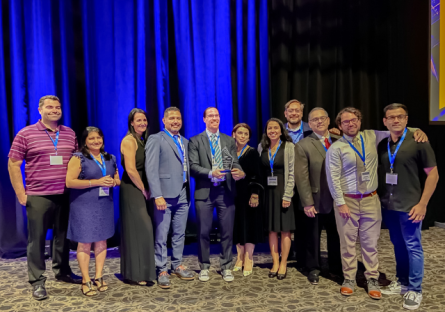 Estrella Mountain Community College (EMCC) and Chandler-Gilbert Community College showed just how innovative they are when they took home the Innovator of the Year - Academia award at the Governor's Celebration of Innovation Awards on Nov. 8 at the Phoenix Convention Center.
The two Maricopa Community Colleges District schools earned the accolade for their Artificial Intelligence and Machine Learning programs, which launched in 2020 in partnership with Intel and the Arizona Commerce Authority to create the first Intel-designed artificial intelligence (AI) and machine learning associate degree and certificate of completion program in the country.
"We recognized the need for a skilled AI workforce, especially here in the rapidly growing West Valley where many of our graduates choose to lay down roots, and within six months of Intel approaching us, we were offering a robust degree and certificate program," EMCC President Dr. Rey Rivera said. "It's an honor to have one of our newest, exciting programs recognized with this award."
Since the program launched, both colleges have opened state-of-the-art AI and Machine Learning labs, which house software tools and access to current technologies via online resources and cutting-edge equipment, including workstations and monitors provided by Intel.
"Intel is committed to supporting Arizona's workforce and to advancing diversity and inclusion to help ensure that the next generation of our state's technologists can engage in AI education to take advantage of the opportunities this emerging technology will create across industries," said Carlos Contreras, Senior Director of AI and Digital Readiness Americas Region at Intel Corp.
Students who complete the program earn an Associate in Applied Science in Artificial Intelligence and/or a Certificate of Completion in Artificial Intelligence and Machine Learning, preparing them for entry-level developer/software positions in information technology, automotive, healthcare, aerospace, and more.
"The benefits of this program will be far-reaching," Dr. Rivera said. "We're excited for our graduates to fill the workforce pipeline for opportunities in which they will be compensated well."
In Maricopa County, over the next 10 years, the projected growth in occupations that require AI skills is 43%, and the average starting salary for an AI engineer is $70,000 to $98,000.
Students who complete the program are also prepared to transfer to a university and complete their bachelor's degree. EMCC has partnerships with Arizona State University, Northern Arizona University, and the University of Arizona, as well as more than 40 public and private institutions in the U.S. and abroad.
To learn more about Estrella Mountain Community College's AI and Machine Learning Program, go to https://www.estrellamountain.edu/artificial-intelligence-aim. Registration for the spring semester is underway. Go to https://www.estrellamountain.edu/students/enrollment-steps to start your educational journey today!