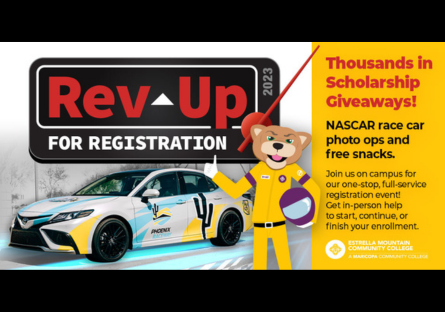 Rev Up For Registration Rolls Back Onto Campus June 10 & July 15 
Enroll at Estrella Mountain Community College (EMCC) and you'll be at the finish line earning your degree or certificate in no time. At Rev Up For Registration, our student services will be onsite to provide in-person services to help put you on the right track wherever you are in the registration process! The third annual event takes place on campus from 9 a.m. to 2 p.m. on Saturday June 10 and Saturday July 15 (Our address: 3000 N. Dysart Road, Avondale).
One of EMCC's most popular student-centered events, Rev Up For Registration is your one-stop shop to start and/or finish the enrollment process. You'll get to know your pit crew (aka our amazing academic and financial aid staff), you'll be able to enroll and register for classes, and you'll even be able to make arrangements to pay for your classes at a later date.
"We know people in our community live busy lives, and, being a college for the community, we want to offer alternative ways for students to meet with our college staff," said Catrina Kranich, EMCC's Director of Outreach and Early College. "This event gives students the opportunity to meet with our enrollment and admissions team, check on their financial aid status, and get their first-semester schedule from our amazing advisement team all on a Saturday!"
The event takes place in the brand-new Komatke Enrollment Center on the south side of campus. Enter from Thomas Road and Park in Lot CW, CE, or B (no drifting, please). Remember to bring your Arizona state-issued ID, your Social Security card if you're planning to apply for financial aid, and a copy of your high school transcript if you are a recent high school graduate. You do not need to be a high school graduate to enroll in classes at Estrella Mountain Community College.
While you're here, check out a real NASCAR pace car on loan from Phoenix Raceway and snap a few selfies or usies. But before you peel out, don't forget to fill out a survey for your chance to win one of 20 $350 scholarships and grab some snacks.
Victory Lane is closer than you think and we're here to make the ride as smooth as possible. To register to attend Rev Up For Registration, click here. Although registration is strongly encouraged, it is not needed to attend our RevUp for Registration event. The last check-in time to see an advisor is 1:30 p.m., so be sure to arrive with plenty of time to get through the enrollment process! For more information about Rev Up, go to https://www.estrellamountain.edu/students/rev-registration.
Registration for the fall semester is currently underway. At Estrella Mountain Community College (EMCC), you will be taught by top-notch professors while earning your associate degree or certificate. And if you choose to move on to a university, EMCC's transfer programs make for a seamless transition. EMCC's classes can be taken in person, online, or in a hybrid format. To begin your journey, visit https://www.estrellamountain.edu/students/enrollment-steps.