Thursday, February 16, 2023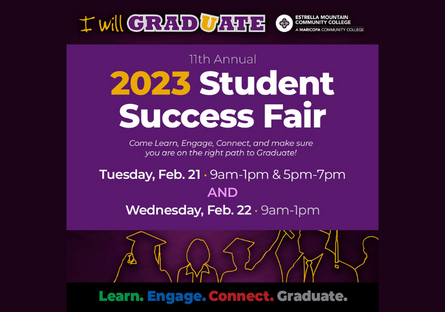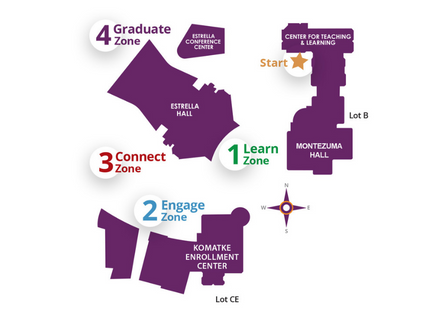 Current & Future Mountain Lions Invited to 11th Annual Event Feb. 21 & 22
---
Current and future Mountain Lions, don't miss Estrella Mountain Community College's (EMCC) Student Success Fair. It's happening on Feb. 21 and 22 on campus!
The 11th annual event is designed to help students successfully complete their educational journey by gaining a better understanding of the requirements needed and resources available for college completion.
"This event is great for students of all ages and stages of their educational journey," EMCC Dean of Students-Retention Dr. Kristina Scott said. "New students are able to connect with faculty and staff, which is very helpful as they are learning what is needed to be successful in and out of the classroom; students who are ready to graduate can connect with university transfer reps; and all students can meet with employers from within our community to see how EMCC partners with them to build a great workforce."
Here's how the Student Success Fair works:
Show up at the Center for Teaching and Learning (CTL) in Montezuma Hall. That's on the southeast side of campus. If you're driving, come in off Dysart Road and park in Lot A or B. Once you get to the CTL, check in and pick up your "passport." You'll be asked to jot down four questions you have about resources and support offered at EMCC.
Next, you'll take your passport to four different zones — Learn, Engage, Connect, and Graduate — spread throughout campus. Balloons and signs will help guide you along. Each zone will have 10-20 different resource tables where you can chat with faculty, staff, university transfer reps, and employer reps, and get your passport questions answered.
Once you've recorded your answers, take your passport to the Prize Zone, complete a short survey, and get some really cool EMCC swag!
But wait, there's more! 
Along your travels, enjoy some music, snacks, and activities such as the I Will Graduate wall that you can sign and share your goals on. You can also take individual or group photos courtesy of EMCC's MTI Club.
"The MTI Club members have mastered the art of capturing the moments and moods of college events in photos and videos," said Professor Jim Heinrich, MTI Club Sponsor. "I encourage all attendees to pop into their photo booth, strike their best pose, and get a perfect celebratory print just a few seconds later."
This is the first year the Student Success Fair has been brought back to an in-person event since the pandemic hit and event organizers could not be more pleased.
"We are so excited about hosting the event in person this year," Dr. Scott said. "There is so much information and support for students to gather at the Student Success Fair, and EMCC team members are ready to assist along the way."
The Student Success Fair takes place from 9 a.m. to 1 p.m. and 5 to 7 p.m. Feb. 21 and 9 a.m. to 1 p.m. Feb. 22 on campus, 3000 N. Dysart Road, Avondale. For more information, email iwg@estrellamountain.edu. 
Thinking about attending Estrella Mountain Community College (EMCC)? It's not too late to start this spring. EMCC offers nearly 200 Flex Start classes that begin in March. To see the class schedule, go to https://schedule.estrellamountain.edu/classes/term/4232.