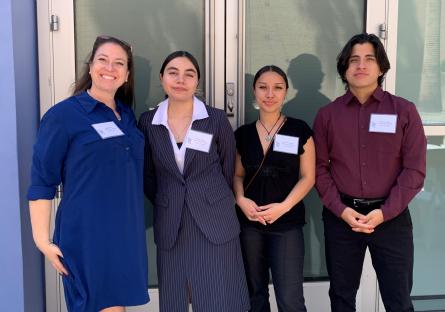 Mountain Lions Present Findings From Semester-Long Research Project Spawned from 'Hidden Figures'
When three Estrella Mountain Community College (EMCC) students applied to take part in an undergraduate research experience last semester, they had no idea they would A) be presenting their findings at the Arizona-Nevada Academy of Science Annual Meeting and Conference; B) be the only team there completely comprised of community college students; and C) win the Outstanding Oral Presentation award. But that's exactly what these amazing mountain lions did!
"Presenting at the Arizona-Nevada Academy of Science was more of a last-minute thing," EMCC student Brianna Jones said, explaining that they presented a brief introduction of the research at the annual EMCC Spring Research Conference, but later in the semester decided to present their findings at another conference.
The research that Brianna and her teammates — Cassandra Nevarez and Jonathan Salazar —  presented involved writing computer code to simulate U.S. astronaut John Glenn's orbit in 1962 and improve upon the code using modern numerical methods.
"Using the film 'Hidden Figures' as a jumping-off point, the team explored the mathematics used by human calculators to ensure John Glenn could orbit the earth and return safely," said Math Professor Sara Meana, the team's faculty mentor.
The 2016 Oscar-nominated film starring Taraji P. Henson, Janelle Monáe, and Octavia Spencer is about a team of African-American women mathematicians who played a crucial role at NASA during the early years of the U.S. space program. The idea to use the film as a launchpad (pun intended) for the research experience came from one of Professor Meana's former students.
"Another one of my fabulous students mused aloud one day in Calculus 2 that it would be so cool to understand the math from the movie 'Hidden Figures,'" Professor Meana said. "Then later in the semester when we were exploring Euler's method, which is the math referenced in a pivotal scene in the film, she said, 'This is all there is to it? That can't be it!' Her questions made me have more questions."
That spawned Professor Meana's first foray into leading an undergraduate research experience, or URE, with that very same student last fall.
"Her URE focused on Mary Jackson's contributions related to nose cone shape and wind tunnels," Professor Meana said. "Her broad exploration helped me to understand and organize the information available so this group was able to continue research on the same topic, but from a different perspective tailored to their interests and goals."
That perspective dovetailed perfectly with Jonathan's plans of continuing on to Arizona State University (ASU) to earn a Bachelor's in software engineering after he graduates next year from EMCC.
"I learned a lot about object-oriented programming and Euler's method, which will definitely benefit me on my path of becoming an engineering student," Jonathan said.
Jonathan and Brianna are both utilizing the My Pathway to ASU transfer program but Brianna, who will also graduate from EMCC next year, hasn't yet decided which university she will attend to pursue dual Bachelor's Degrees in computer science and physics.
"I have Arizona State University in mind, but I'm still exploring some of my other options and am considering some universities out of state," she said.
The first-generation college student began attending EMCC in 2022 when she was still a junior in high school. She met Professor Meana that summer when she took trigonometry and said she fell in love with her radiant teaching skills and ability to make somebody's day by cracking a joke. When she heard about the URE opportunity with her former professor, she jumped at the chance. She said the URE benefited her in numerous ways, but one way in particular stands out.
"Not only did this experience allow me to conduct an intriguing study, but it also allowed me to go outside of my comfort zone to explore new things," Brianna said.
The Arizona-Nevada Academy of Science Annual Meeting and Conference was held April 15 in Mesa. EMCC's team presented alongside graduate students and people with Ph.D.s. Judges indicated that EMCC's presentation was the most outstanding presentation because the team took very complicated mathematics and explained the outcomes and results in a very accessible way. 
"When preparing for this oral presentation, I never had the mindset of needing to win this Outstanding Oral Presentation award," Jonathan said. "I honestly just wanted to educate others on how cool it is that computers can solve satellite re-entry problems within a fraction of time compared to back in the time when NASA had to hand-compute everything. So we avoided using complicated math terms and replaced them with simpler terms so the audience could actually understand what we were trying to explain and that really helped in getting the message across."
Each student was also awarded a $1,000 Western Alliance to Expand Student Opportunities (WAESO) scholarship at the begining of their semester-long research.
"I felt ecstatic and relieved at the same time when I found out I was getting the WAESO scholarship," Brianna said. "Not only did this help me pay for my tuition throughout the semester, but I also felt excited knowing that there were individuals that wanted to support me and my research."
Jonathan said the scholarship motivated him to work harder and produce high-quality research. 
"I was able to take more days off at work and focus on school and this URE," he said. "It felt like my hard work was really paying off.