Wednesday, April 26, 2023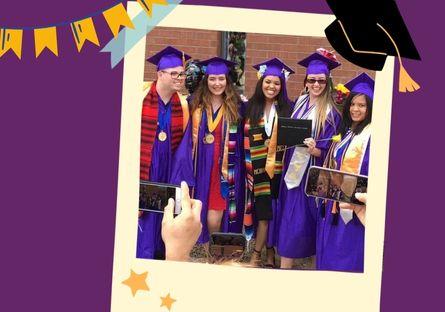 Estrella Mountain Community College Graduate Preparing for Law School
Zach Stites was born 10 weeks prematurely. He weighed only 3 pounds. Diagnosed with cerebral palsy hydrocephalus, he couldn't walk until he was 3 and couldn't talk until he was 4. Doctors said he would be confined to a wheelchair and would not live to see the sixth grade.
Zach had other plans. 
Today, Zach is an Estrella Mountain Community College (EMCC) graduate; a graduate of Barrett, The Honors College at Arizona State University (ASU), and is now preparing for law school. 
"I stand before you today as the college graduate who was not supposed to be," Zach said back in 2019 while delivering the student remarks during EMCC's commencement ceremony. "I reached high, I dreamt big, and as Mary Poppins said, 'If you reach for the heavens, you will definitely get the stars thrown in.'"
We caught up with Zach ahead of this year's graduation to see what he's been up to since he crossed our commencement stage four years ago.
"ASU was a great experience," he said. "I lived on campus in the Vista Del Sol complex — the housing for the upperclassmen in Barrett, The Honors College."
He said the amenities such as a swimming pool and a community center made it the perfect hangout for Barrett and non-Barrett students alike.
"I loved it!" he said.
He also served as the secretary for the Barrett Honors College Council, a position he said EMCC helped prepare him for.
"EMCC is where I first developed my leadership skills in a college setting," he said. "That really prepared me to take on bigger leadership roles at ASU."
While at EMCC, Zach was in the Honors Program and a member of Phi Theta Kappa (PTK), the honors society for two-year colleges. He even served on PTK's Executive Board.
"Serving in those capacities helped me hone two very important skills that I will put to good use as an attorney: presentational and oratory," he said.
He also worked as a reading tutor while at EMCC.
"I found it really enjoyable," he said. "It allowed me to give back to the college by helping mostly ESL students better their reading and writing skills. I loved working with students of different abilities and finding ways to help them understand complex texts."
He said the tutoring position helped him as well because he had to explain advanced concepts in a way his fellow students could understand, a skill that succesfull lawyers need.
"Personally, I learned how to effectively communicate with others as this is what I will have to do in the future as an attorney and judge," he said.
Zach transitioned seamlessly from EMCC to ASU utilizing the MyPath2ASU program. MyPath2ASU is designed for students who start at a community college and complete their bachelor's at ASU. While at the community college, the students follow a prescribed sequence of coursework that meets the lower-division course requirements for an ASU major. 
"The MyPath2ASU program helped immensely with the transfer process," Zach said. "It laid out all the classes I needed to take while I was at EMCC to ensure I didn't have to take any of the prerequisites, lower division electives, or lower division history courses at ASU."
By taking their prerequisites and general electives at EMCC before transferring to complete their bachelor's through programs such as MyPath2ASU, students benefit from smaller class sizes, both at the community college and university levels. The smaller classes coupled with the more affordable tuition rates are what led Zach to choose EMCC after graduating from Desert Edge High School in 2017.
"I found the smaller class sizes appealing," he said. "And I knew I'd have to save money for my future schooling."
Zach said EMCC's smaller classes helped prepare him for ASU by boosting his confidence.
"When I got to ASU, I wasn't intimidated," he said. "And I ended up having smaller classes there because I was taking higher level classes rather than the lower level ones where the class sizes are larger because everyone has to take those."
Zach graduated from ASU magna cum laude with a bachelor's degree in history, a subject he has been passionate about from a very young age.
"I've always enjoyed looking at how things change over time and diving deeper into events I already know about but want to learn more about," he said.
Now, Zach is preparing to take the Law School Admission Test (LSAT), a standardized test designed in partnership with law schools to assess the skills most needed for law school success: critical reasoning, reading comprehension, and persuasive writing. Students must pass the test before they can even apply to law school.
"I am nervous," Zach said. "This test tests the skills that first-year law students need to possess. A lot is riding on a three-hour exam. But I would say I am a good test taker. I study often for big exams and I'm working on learning this exam day by day."
"The test is not easy. I will get to law school. I have always overcome obstacles in life and haven't let them define me."
Interested in attending EMCC? Registration for the summer and fall semesters is currently underway. EMCC offers a variety of associate degrees and certificates. It also partners closely with several schools including Arizona State University, Northern Arizona University, and University of Arizona for transfer programs. Classes can be taken in person, online, or in a hybrid format. To begin your journey, visit https://www.estrellamountain.edu/students/enrollment-steps.