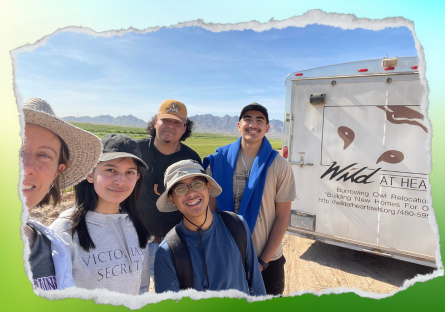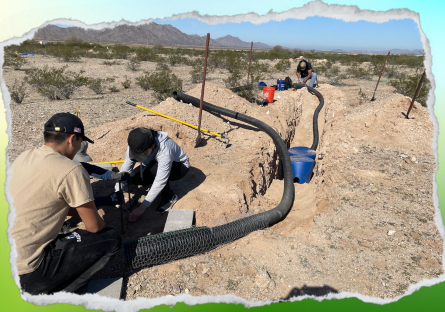 Burrowing owls have a special place in Estrella Mountain Community College's (EMCC) heart.  After all, the West Valley campus has been home to a host of the small diurnal birds for almost a decade.
Back in 2014, Biology Professor Dr. Rachel Smith first discovered two burrowing owls trying to shelter on the side of an embankment where the Performing Arts Center now sits. She reached out to experts at Wild at Heart, an Arizona-based raptor rescue, who suggested passive relocation — basically constructing an artificial burrow and hoping the owls move into it. So Dr. Smith rallied her students, and with guidance from Wild at Heart, built close to 50 burrows on the north side of campus.
The original two owls, as well as some rescues from Wild at Heart, quickly moved into their new digs. "The owls just find the new burrow," Dr. Smith said at the time. "It's amazing. They just seem to know. You build a burrow and like two hours later, there's an owl sitting by it."
Five years later, as the Estrella Mountain campus expanded with the construction of Arroyo Hall and a new parking lot, Dr. Smith teamed up with Wild at Heart and recruited a new group of students to do it all over again, relocating the burrows.
Many burrowing owls, especially those in the western U.S. where the ground is incredibly hard, don't actually build their own burrows. Instead, they take up residence in vacated burrows built by other animals, such as prairie dogs. But the near eradication of prairie dogs has led to a decline in the owl population. Development hasn't helped their numbers, either. Housing and commercial projects have led to burrows being plowed over and farm fields — a favorite hunting spot for burrowing owls — disappearing.
"We're reducing their ability to get food and reducing the square footage of where they can live," Dr. Smith said.
Burrowing owls aren't endangered yet but their numbers are dwindling, which is why EMCC's efforts to provide them homes is so vital.
"We see the writing on the wall and their numbers are declining really quickly, so it's good to intervene while they're still a viable wild population and it's not so expensive," Dr. Smith said. "When their numbers get really low, it becomes really expensive to help them, but it's pretty cheap to build the burrows."
When Wild at Heart needed help with a burrow-building project in February near Gila Bend, it comes as no surprise why they reached out to Dr. Smith to help. She didn't hesitate and sprang into action, enlisting a handful of students who were all too happy to roll up their sleeves and get to work.
"I just love nature in general, so any chance I have at giving back or being out there and getting to work with animals or the environment, I absolutely will try to take," said Maui Padilla, a biology major and Lead Ambassador for EMCC's Animal Ambassador Community Outreach Program. "I grew up out in nature and really learned firsthand to love nature, every little thing about it, so I just jumped in. I didn't really think about it, I just heard, 'Want to help relocate burrowing owls?' and I went to my default answer: 'Yes.'"
The rehomed owls had been living at Wild at Heart since last December, having been rescued from various construction sites around the Valley. Maui, along with three other EMCC students, volunteered their time constructing 10 of the 48 total burrows needed.
"It was a lot of digging, but we all had fun," Maui said.
Before the owls were given the keys to their new homes, temporary tents were constructed over the burrows to help slowly introduce them to their new environment and keep them from trying to return to their former lodgings. Volunteers, including EMCC students, regularly made the trek out there to feed and check on them.
"EMCC made several long-distance trips to support habitat and tent installations," said Greg Clark, Burrowing Owl Habitat Coordinator at Wild at Heart. "Most groups can't do that, so EMCC involvement is most appreciated."
As for the owls?
"They're doing well," he said.