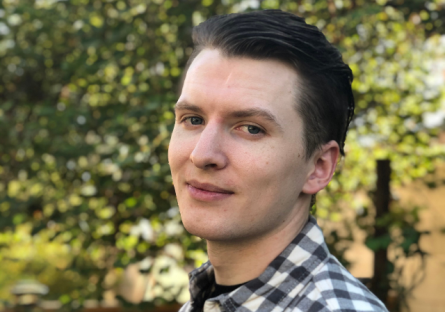 'Hard work and the amazing support from my professors and advisers were a constant in my success'
---
If green means go (and we all know it does), then it's a fitting last name for one of Estrella Mountain Community College's (EMCC) recent graduates.
Zane Green graduated from EMCC this spring with not one, but two, degrees — an Associate in Arts and an Associate in Science.
"There is always an advantage to studying two degrees," he said. "Because in the end, when you go to a university, it gives you more clarity regarding what you really want to do."
But Zane didn't just earn two degrees simultaneously, he also earned them both with highest distinction, something he attributes to hard work coupled with EMCC's supportive faculty and staff.
"They assisted me on my path to achieve my goals, and they gave me the confidence to strive for my true potential and not be satisfied with the status quo," he said. "Hard work and the amazing support from my professors and advisers were a constant in my success."
It shows. Zane's now at Arizona State University (ASU) on a full-tuition scholarship. He's working on a degree in Material Science Engineering with plans to go on to graduate school for Nuclear Engineering and eventually obtain a doctorate.
Zane's journey at EMCC began in 2018. He went through the MAPP MyPath2ASU program, which is designed for students who want to start at one of the Maricopa Community Colleges and complete a bachelor's at ASU. Students in the MAPP MyPath2ASU program follow a prescribed sequence of course work at a Maricopa Community College that meets the lower-division course requirements for an ASU major.
"The MAPP transfer program facilitated the ease of my transfer to the Ira A. Fulton Schools of Engineering at ASU," Zane said. "It helped tremendously in making the transition as smooth as possible with getting an ASU adviser to help me and understanding all the opportunities available at ASU prior to attending."
He secured the scholarship to ASU through the Next Generation Service Corps leadership development program. The program requires its students to maintain a 3.0 cumulative GPA, complete a minimum of 30 credits per academic year, take several leadership courses, complete three internships, and participate in service and leadership events.
"The program helps build leadership skills as well as building an understanding of the public, private, and nonprofit sectors and how to operate and coordinate in each," he said. "So that when you get into the industry, you not only know how to operate within it but are also able to communicate effectively with the other sectors for potential problems in the future."
While continuing his education at ASU and beyond, Zane plans to be involved in the research and development of new green-related energy technologies. Research isn't new to Zane, he's currently participating in a 10-week internship offered by the Nanosystems Engineering Research Center for Nanotechnology-Enabled Water Treatment (NEWT), which has research laboratories at ASU, Rice University, The University of Texas at El Paso, and Yale University. Zane is working out of the ASU lab studying and characterizing a polymer to see if it can be used in water desalination.
"One of the great things about this internship is the experience to be gained and what to expect for any transfer student looking to work in a research lab when they get to ASU," he said.
He heard about the internship opportunity from Liahla Roberts, EMCC STEM Coordinator, who thought it would be a good fit because of Zane's interest in nanotechnology and material science.
"I have had the pleasure of mentoring Zane since about fall of 2019," Roberts said. "He's a great student, very driven, very motivated, and very receptive to internships."
Indeed, this isn't Zane's first foray into the internship world. While earning nearly straight A's at EMCC, he completed a NASA National Community College Aerospace Scholars (NCAS) internship. Although skeptical at first because the entire program was conducted online due to the pandemic, he quickly realized that the migration to a complete virtual platform turned out to be a benefit.
"The online portion actually helped me network with people from many different NASA centers rather than just the one if it had been held in person," he said. "That helped push me more to apply to all centers and internships I normally wouldn't see myself do."
During his time at EMCC, Zane also joined the college's STEM Club and worked in the Physical Science lab where he gained a valuable skill set, something he's already putting to good use.
"When you have defined your path, it is important to find a way to utilize and practice the skills you learn in your chosen degree," he said. "I was truly fortunate to be accepted for part-time work at EMCC because I gained an understanding of working in a lab and what to expect. It helped tremendously when I moved into my internship with NEWT at ASU."
---
To learn more about EMCC's STEM pathways and university transfer options, visit https://www.estrellamountain.edu/degrees-certificates/science-technology-engineering-and-mathematics/. Registration is currently open for the fall 2021 semester. To begin your educational journey, go to https://www.estrellamountain.edu/students/admissions.