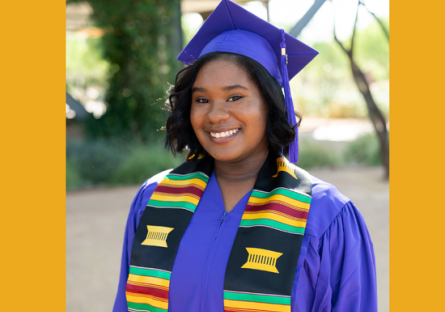 Bri Powell is a little nervous but mostly excited to deliver the student remarks at Estrella Mountain Community College's (EMCC) Spring 2022 Commencement Ceremony. Especially considering she almost didn't audition for the part.

"I came across an email asking for students to audition for the student speaker role," Bri said. "I have always wanted to be a speaker and I thought this was a great opportunity for me. But when it was time for the audition, I almost chickened out and was headed off campus to drive home when I felt the urge to stay and just audition."

So she turned her car around.

"I decided it wouldn't hurt to try, even though I didn't feel prepared to audition or give the speech at graduation," she said. "I believe it was my intuition convincing me to try something new."

Bri is graduating with an Associate in Arts. She's utilizing Northern Arizona University's (NAU) 90/30 Program, which allows students to transfer up to 90 lower-division college credits to NAU and complete the remaining 30 upper-division credits to finish their bachelor's without relocating. She's got about 30 lower-division credits to go and is on track to officially become a Lumberjack next summer or fall.

"You'll still see me on our EMCC campus after I earn my Associate in Arts," she said. "I will be working toward my additional 30 units at the end of May."

She'll then complete her Bachelor's in Applied Human Behavior online at NAU.

"Personally, I have not yet figured out which path I will choose to pursue as an official career," she said. "However, this degree is a great opportunity toward contributing to becoming an advocate. I believe advocating for others in need is extremely important."

Bri knows firsthand just how important advocating for others is. She struggles with Dyscalculia, a learning difficulty that affects a person's ability to do basic arithmetic such as addition, subtraction, multiplication, and division. From second through 12th grade, she received special education services in the form of an Individualized Education Program (IEP).

"I wasn't able to do arithmetics like addition, subtraction, multiplication, and division," she said. "I had to get retaught these basic mathematical concepts from elementary through high school."

She said it was upsetting and degrading.

"I felt very embarrassed that my friends and grade-level students were starting algebra, calculus, even trigonometry and I was still learning addition and subtraction," she said.

She also grew tired of explaining to people what IEP was and began pretending that her class was "just another math class." She began to doubt IEP entirely.

"I never wanted to associate myself with people who had learning disabilities, not even physical disabilities," she said. "I have always convinced myself that I wasn't 'different,' that I didn't need help because I was smart. I felt like IEP was mentally holding me back. It made me not even want to try doing the work anymore."

But looking back, she realized that she wouldn't be where she is now had it not been for the assistance IEP gave her throughout elementary and high school and she's ready to talk about it.

"I have learned to accept my IEP educational journey," she said. "It's so special for me to open up about but it definitely took me time. Although I have seemed to outgrow the need for IEP assistance, I still hold growing up as an IEP student close to my heart."

She still hasn't overcome Dyscalculia and doesn't think she ever will completely but she managed to pass her geometry class at EMCC thanks to a different set of advocates — the tutors at the Academic Success Center and her twin sister, Tatyanna.

"I was terrified to do math with EMCC," she said. "I managed to pass with a good grade thankfully. The tutors were great. They definitely knew what they were talking about, but, I still remember having a breakdown in the bathroom before a geometry exam. I couldn't stop crying."

Enter Tatyanna.

"My twin sister had to help me calm down," Bri said. "Then I was able to push forward and get myself under control before entering the classroom and completing the exam. She and I are super close and we'll do anything to protect each other."

Super close indeed. They'll even cross the same commencement stage despite graduating a year apart.

"She will actually be there walking in graduation!" Bri said. "She received her degree before me at the end of our fall semester last year and will be walking at the ceremony this year."

Not that she should need her sister's calming presence on this day, though.

"Once I'm comfortable, I am a pretty confident and strong speaker," Bri said. "I felt drawn to audition for the student speaker role because I felt like this opportunity was meant for my own personal growth. And I'm so glad I did because it was close to not even happening."

 

---

The Spring 2022 Commencement Ceremony is set for 7 p.m. May 13 at Camelback-Ranch Glendale, 10710 W. Camelback Road, Phoenix. To learn more, go to https://www.estrellamountain.edu/graduation.