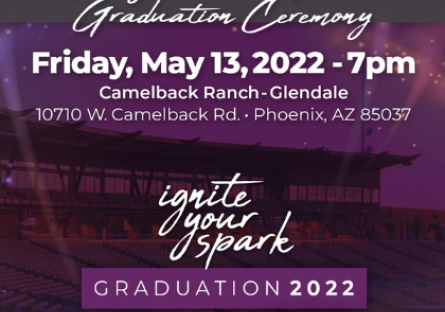 Spring 2022 graduation celebration set for May 13 at Camelback Ranch-Glendale
---
Estrella Mountain Community College's (EMCC) commencement ceremony is returning to an in-person event this year! The Spring 2022 Commencement Ceremony is set for 7 p.m. May 13 at Camelback Ranch-Glendale, 10710 W. Camelback Road, Phoenix.
"I'm extremely proud of the way we've been able to safely celebrate our graduates over the last two years during the pandemic," said Dr. Rey Rivera, EMCC President. "We've held virtual ceremonies and a car-mence-ment celebration. But nothing compares to physically walking across that stage to receive that degree or certificate you've worked so hard for while your friends and family cheer you on. I am beyond thrilled that we are able to return to an in-person ceremony this year."
The ceremony will begin with the processional and posting of the colors by the Westview High School Marine Corps Junior Reserve Officer Training Corps. EMCC student Tristan Andrade will sing the national anthem and then Dr. Rivera will take the stage and deliver the opening remarks.
Mathematics Professor Andrew Burch, who has been teaching at EMCC for 17 years and currently serves as the Faculty Senate President, will provide the faculty comments, and Brianna Powell, who is graduating with an Associate in Arts, will give the student comments.
"I am both nervous and excited," Brianna said. "People judging is an internal fear that I think any public speaker has faced at least once. But, I am excited that I became the speaker because it was something that I wanted to do for myself and that makes me proud."
Maricopa Community Colleges Interim Chancellor Dr. Steven Gonzales will confer the degrees, and, along with Dr. Rivera, Interim Vice President, Academic Affairs Dr. Kathleen Iudicello, Vice President, Student Affairs Dr. Patricia Cardenas-Adame, and Vice President, Administrative Services Dr. Heather Weber, will present the degrees and certificates.
The ceremony will conclude with Student Services Analyst Alexandra Cervantes, a first-generation college student who graduated from EMCC in 2015, inducting the graduates into the Alumni Association, Dr. Rivera delivering the closing remarks, and the recessional.
Graduate check-in begins at 5 p.m. All graduates must be in EMCC regalia and checked in by 6:15 p.m. Parking for students and employees is in the Third Base Lot and guest parking is in the Home Plate lot. For more information about EMCC's 26th annual Commencement Ceremony, go to https://www.estrellamountain.edu/graduation.