Inside the Institute
The Networking Technologies programs at EMCC provide students with the practical and technical skills and training that lead to a rewarding career.
The programs in this institute make the news quite often for innovation, community involvement, and student success. Read the latest.
Information
As a student of one of EMCC's Networking Technologies programs, you'll want to be aware of some critical dates - not just for exams and projects but orientations and graduation Here's what you need to know:
Every student needs to attend the new student orientation. This event is designed to inform incoming students about the EMCC campus, available resources, faculty and staff expectations, opportunities offered, and the importance of identifying their personal and educational goals.

When you enroll, you become part of the Networking Technologies Institute. The Institute orientation is your opportunity to connect with faculty, staff and other students. You'll hear about resources just for your program as well as  be able to connect with a variety of EMCC's business partners for future internships, scholarships or career opportunities.

Finally, when you're ready, you'll want to keep an eye open for EMCC's graduation deadlines in order to fully celebrate your big day.
The Networking Institute Club, CSLUG, meets the last Tuesday of every month. Any EMCC student and alumni can join. Typical meetings include:
Informal dinner/refreshments at local area restaurants

Social networking support for studying, internships, and employment opportunities   

Guest speakers  from the Networking industry
Open Lab
The Networking Institute holds an open lab in Estrella Hall, Room EST111 and EST 110. Contact Tracy Baker and Tom Polliard for details on time.
Red Hat Academy
Estrella Mountain Community College offers an Associate's Degree in Linux Networking. We also offer several College Certificates that you can earn on your way to your Associates Degree. Estella Mountain is partnered with Red Hat and is Arizona's first Red Hat Academy. Red Hat Linux is the largest Linux Network Operating System in the United Sates, comprising 80% of the Linux market share. Red Hat's RHCSA (Red Hat Certified System Administrator) and RHCE (Red Hat Certified Engineer) are the hottest vendor information technology certificates today.
Alexiss Mailloux Testimonial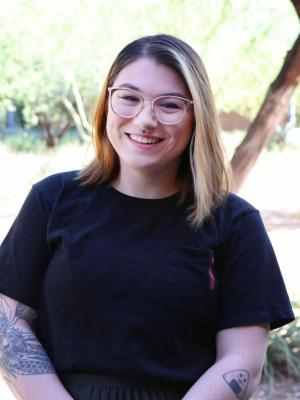 "I can never speak highly enough of the cybersecurity program at Estrella because I got to see the concepts that they taught me and the projects they gave me directly applied to what the field has to offer." ~ Alexiss Mailloux, Kudelski Security Employee and EMCC Grad Visit https://go.estrellamountain .edu/3jfLmVb or https://go.estrellamountain .edu/3zqH6YE to learn more about Alexxis' journey!